Andorid
"Sharp x eSports" talked by AQUOS zero series development members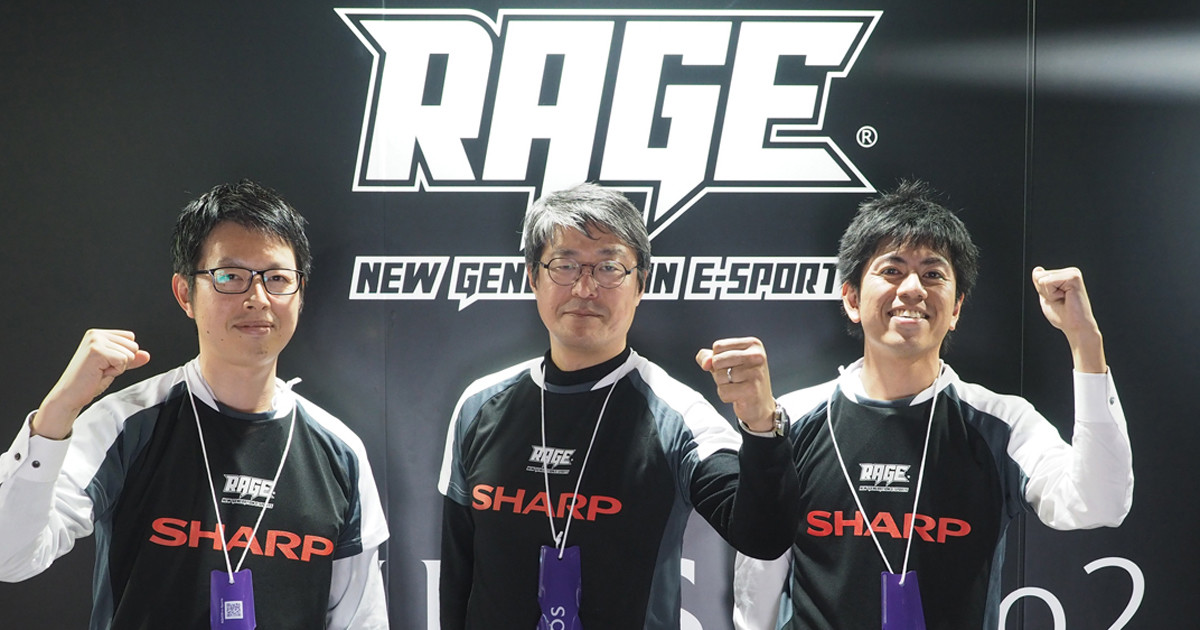 "RAGE 2019 SPRING"AQUOS zero" has been supporting the "Shadowverse" flight-type tournament of "" and the Battle Royal Challenge of "Bloster", and has emphasized its position as a gaming smartphone. At the "RAGE 2019 Winter" held on November 23, 2019, Sharp co-sponsored as a crown sponsor, highlighting the high affinity between esports and games and AQUOS.
Therefore, we talked to three developers of the AQUOS zero series about the relationship between the AQUOS zero series and games, and the relationship between Sharp and esports.
"AQUOS zero" that does not sing gaming smartphones
-Sharp has signed a sponsorship agreement with the professional gaming team "DetonatioN Gaming", and has an impression that it is focusing on esports and games, such as setting up an esports page on the official website, but entering the esports market What made you decide to do it?
Mr. Daiki Shinomiya [hereinafter Shinomiya]:The AQUOS R series also included features related to games, but it was AQUOS zero that brought out the strength of games.
e-sports has become so large that it cannot be ignored as a trend in the world, and I have always wanted to do something. However, simply extruding AQUOS zero as a "gaming smartphone" is perceived by users as a "high-end machine" for games, and there is one aspect that it will not be widely available.
Therefore, as a smartphone that is easy to use, we emphasize the concept of being strong in games. We think that we can appeal to gamers well without spoiling charm of thin and light smartphone.
――I heard that the lightness of AQUOS zero is popular with people who play games for a long time. Is there anything else you focused on for games?
Takayuki Hayashi [hereinafter Hayashi]:AQUOS zero uses "parallel charging" and "radiation processing technology" to keep the terminal from getting hot even when playing games while charging. Heat treatment is important for maximizing CPU performance, so we are careful with heat treatment in AQUOS zero2 as well.
In AQUOS R3, which was released after AQUOS zero, the smoothness of the screen and the high image quality of the high-speed IGZO made the gameplay comfortable, so we took care of the display in AQUOS zero2 as well.
The refresh rate of AQUOS zero was 60Hz, but AQUOS zero2 is driven at 120Hz and 240Hz update is realized by inserting a black screen for each frame. Games running at 120Hz are also increasing, and AQUOS zero2's smooth and crisp display is definitely comfortable for playing games.
――Is there a function useful for game play?
Koji Kusuda [hereinafter referred to as Kusuda]:Equipped with functions to support comfortable game play. For example, suppressing the notification function. Eliminating emails and message notifications during the game will reduce your focus on the game.
In "Game Quality Mode", you can play on a beautiful screen with good visibility. Game recording is easy, and you can record along with the microphone sound as well as the game sound.
Also, AQUOS zero2 has a screen up to the last minute of the terminal, so if you do nothing, "wrong touch" may occur at the edge. Since erroneous touches in the game are directly linked to poor operability, we have tuned the touch sensation, making it difficult for erroneous touches to be possible, yet allowing us to touch the edges firmly.
――AQUOS zero was sold only by SoftBank, but AQUOS zero2 is handled by multiple carriers and has color variations. Is AQUOS zero popular?
Shinomiya:I think AQUOS zero resonated mainly with young people. AQUOS zero2 will be deployed in multiple carriers, so I'd be happy if more people could pick it up. With color variations, we hope to expand your options. I think that I will reach more people than AQUOS zero, so I'm looking forward to what kind of feedback I have.
Entry into e-sports to create better smartphones
――Is there any advantage as a sharp in entering the esports market?
Shinomiya:Not only will the brand image increase, but we expect feedback on the product. In fact, DetonatioN Gaming provides terminals, and we listen to the impressions, requests, and dissatisfaction of professional players.
I would like to use it not only to advertise Sharp and AQUOS zero, but also to make better products. Even if you think of it as a promotion, game fans have a relatively core image, so once you find it appealing, you might be a deep fan of the product.
-5G will finally start in 2020. I think it will take years to spread, how do you see this technology?
Hayashi:I think there are various solutions, but as a company that does communication, of course there is something that cannot be ignored. After all, I think that the usage scene in games will increase, so it will be necessary to think about 5G as well as developing terminals for esports and games.
――Finally, could you comment on esports?
Shinomiya:I hope that the esports industry will continue to thrive in the future. Whether you are a crown sponsor like RAGE this time or a manufacturer that releases a game-resistant device like AQUOS zero2, we want to support e-sports in various ways.
–Thank you very much!
Source link