Technology
Since Saizeriya's menu has been renewed, I have eaten all 19 new and seasonal items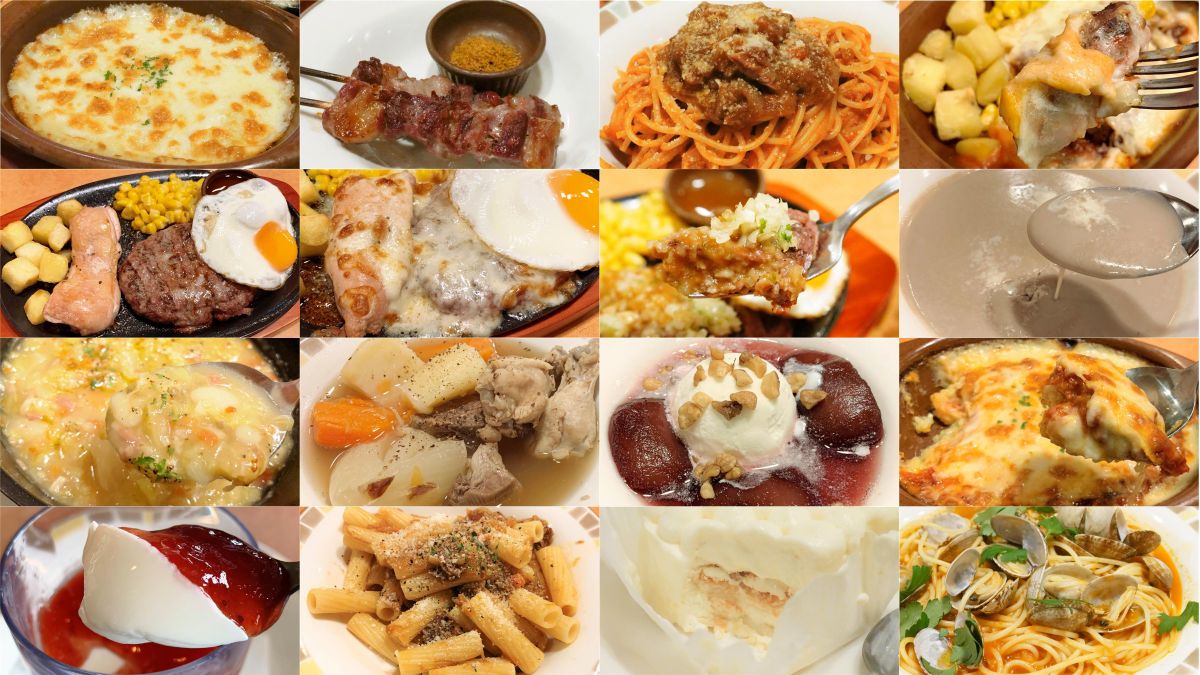 Since Saizeriya's menu has been renewed, I have eaten all 19 new and seasonal items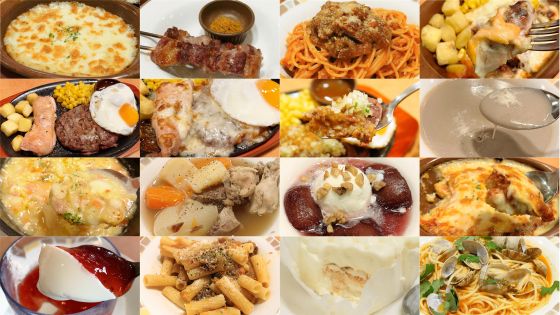 Italian restaurant Saizeriya has updated its grand menu from December 18, 2019 (Wednesday), and has begun offering new and limited-time menus. In addition to the store limited menu " Lamb meat skewers '' has become a regular menu, the cheese potato " Friuli-style frico '' has become a cheese mashimashi, and a new menu using the popular Diabola-style sauce has appeared That's why I actually ate all the new items to check the taste of the 19 new menu items.
Saizeriya Top Page | Saizeriya
https://www.saizeriya.co.jp/
Wednesday, December 18 Grand Menu revised! Discover the new fun of meat cooking! !
https://www.saizeriya.co.jp/PDF/irpdf000692.pdf
Seasonal Menu | Saizeriya
https://www.saizeriya.co.jp/menu/season.html
Arrived at Saizeriya.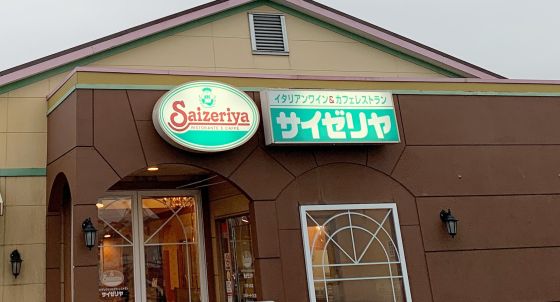 The new menu says, "Everybody's smile makes my time delicious."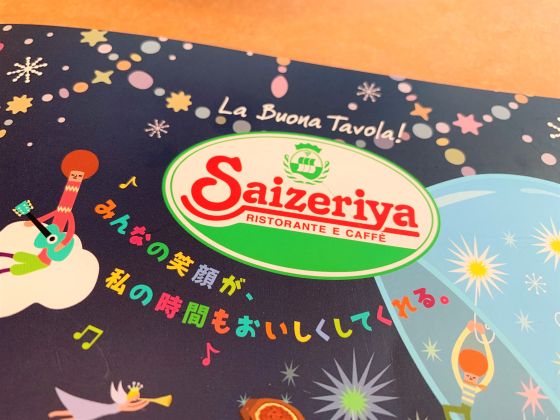 Lamb meat skeweredAllosticini"And a total of 18 new products, including a new menu and a seasonal menu.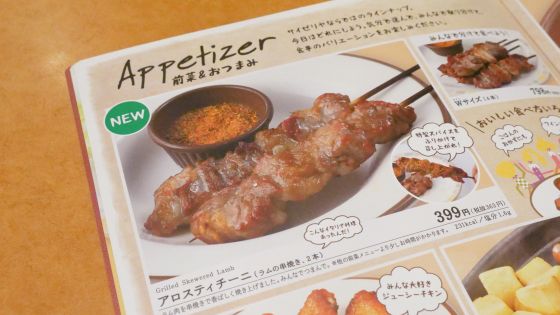 A lot of Alostini also looks for the familiar mistake of Saizeriya.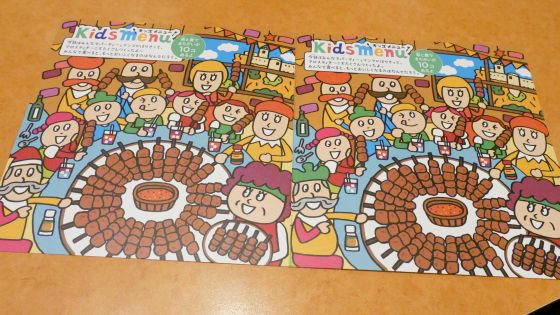 So I ordered a new menu. We sat at a rather wide table, but the table was still full of dishes.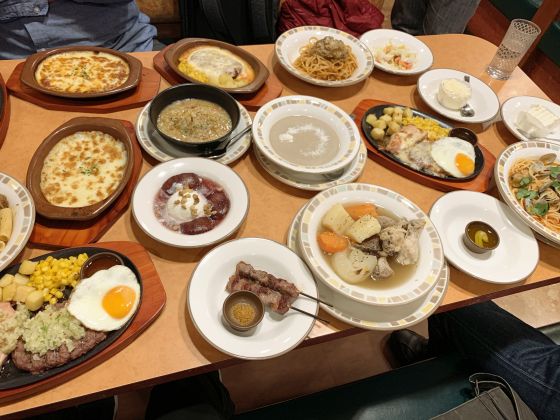 First of all, from Alostini (399 yen including tax). There are two pieces of lamb on a skewer and special spices on the plate. When I ate it, the crispy roasted lamb floured out with a lot of savory juice, but the smell of lamb was not so light. It's very easy to eat without anyone having access to lamb meat, but I like the smell of lamb! It may be a little unsatisfactory for those who say.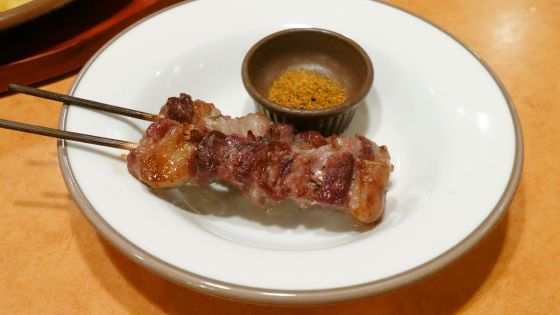 However, the taste changes completely when you eat it with special spices. The cumin-rich spices were modest in spiciness and enhanced the taste of meat, so it was possible to eat as many as you like.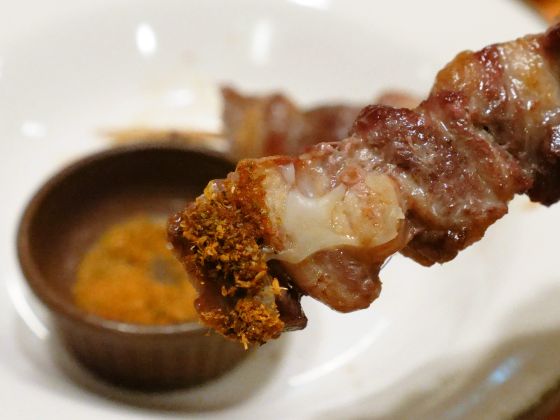 next"Milan-style doria with plenty of cheese(399 yen including tax) ''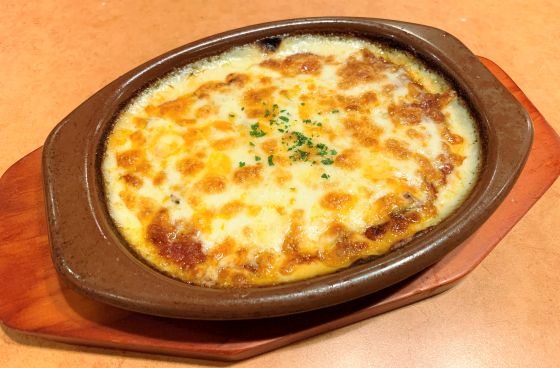 Plenty of cheese is on top of the Milanese-style doria, a standard of Saizeriya. If you eat a bite, the flavor of the cheese spreads over your mouth, and there is too much cheese to make the impression of rice a little faint. It is a dish of "cheese plenty".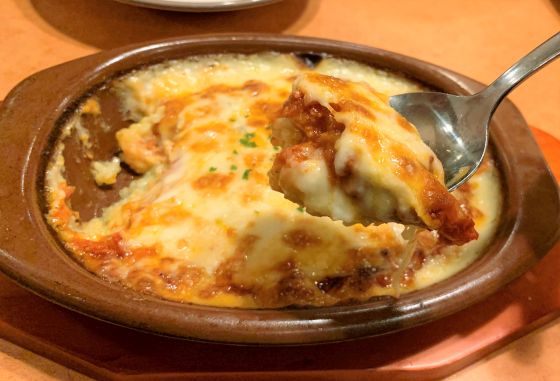 It looks similar to a Milan-style doria with plenty of cheese,Friuli-style frico with plenty of cheese"is. "Friuli-style frico", which is a normal potato and cheese-style Italian oyaki, is further topped with cheese.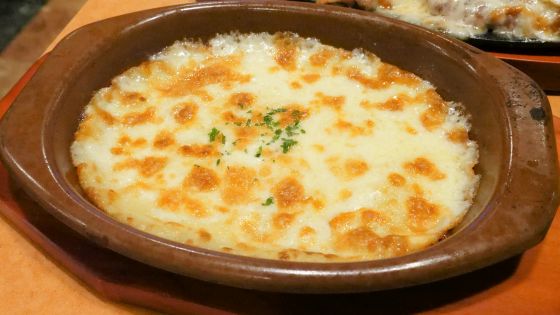 When I ate it, I enjoyed the rich flavor of cheese and the texture of the crisp mashed potatoes on the outside and inside.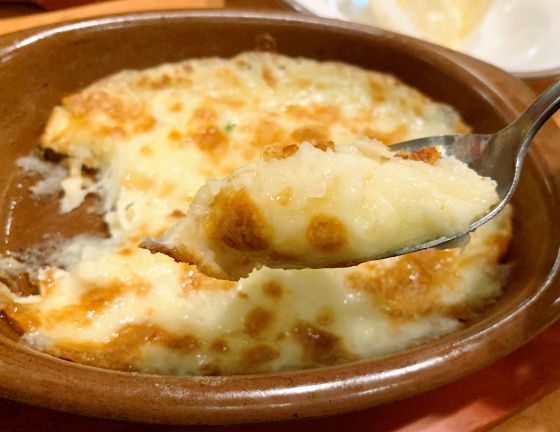 A sauce with plenty of beef and onion was applied.Napoli Genovese(499 yen including tax) "is the main role of the well-boiled onion sweetness, and the large pasta is preeminent.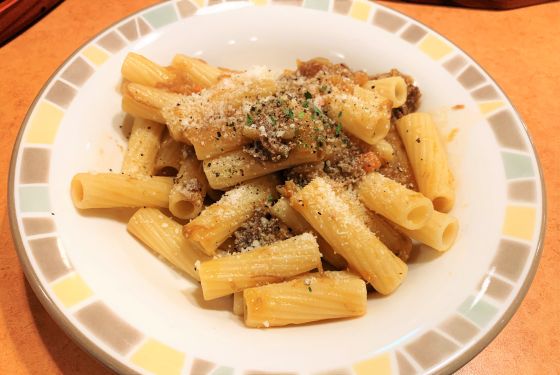 Seasonal limited seasoned with plenty of clams and tomato pastaTomato flavor vongole with soup(499 yen including tax) ", the sour taste of tomato soup and the taste of clam were in harmony, and the refreshing Italian mint successfully suppressed the smell of seafood.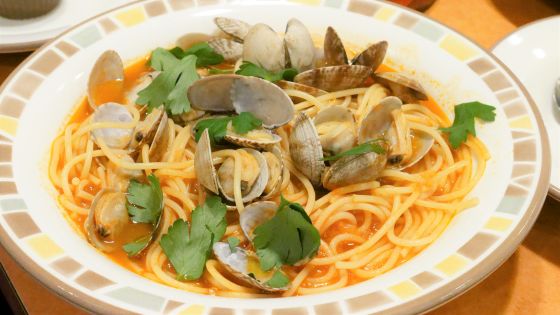 This is a sauce with stewed onion and beefBeef shank ragout sauce(599 yen including tax) ". The flavor is similar to Napoligenovese because it uses beef and onion sauce, but the sweetness is less than Napoligenovese, the gentle sweetness of the fluffy finished ragout sauce spreads all over the mouth, the taste of beef It becomes addictive.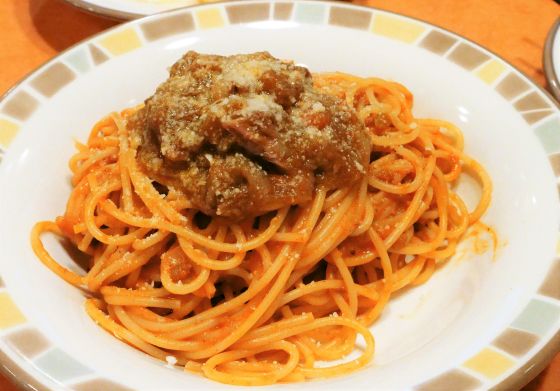 After eating rich pasta successively, seasonal limited " Chinese cabbage, paprika, carrots are flavored with olive oilMixed pickles of Chinese cabbage(199 yen including tax) ", the crunchy Chinese cabbage and paprika have a very strong sour taste, and the mouth is refreshing at once.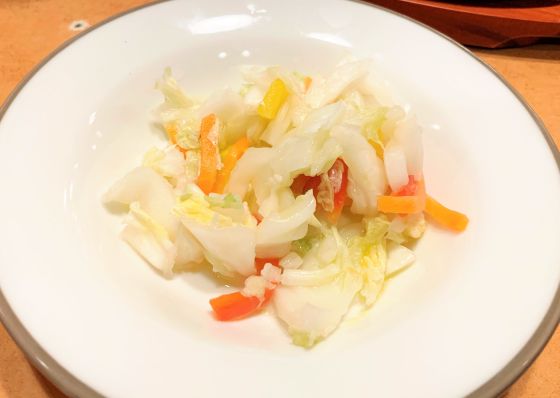 Subsequently, plenty of white sauce and cheese were spread over 100% beef hamburger "Cheese hamburger with white sauce(499 yen including tax) ".
It was a dish where the rich flavor of the cheese that covered the hamburger was pushed out all over the surface, although it felt the slight acidity of white sauce.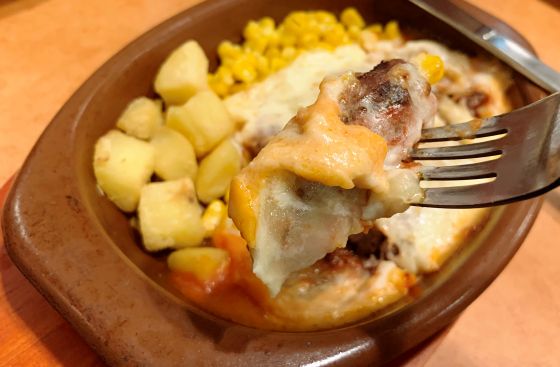 "Assorted chicken and hamburger steak(599 yen including tax) "is a dish that combines a popular hamburger and chicken.
It is a seasoning used in ancient RomeGarmI enjoyed the meat's original flavor to my heart's content with the sauce.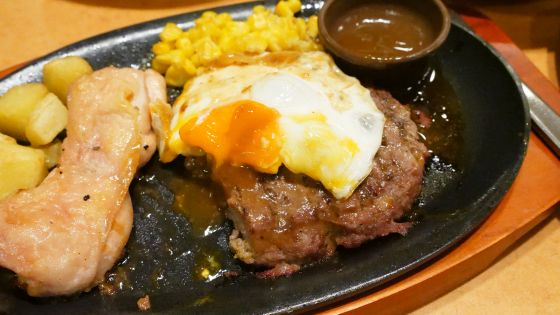 The cheese on the platter of chicken and hamburgerAssorted Chicken Grill and Hamburger Hamburger(699 yen including tax) "Plenty of cheese is rich in hamburger and chicken lily. It has a Demigrass sauce instead of the Garm sauce that was on the assortment of chicken and hamburger. Chicken grill was seasoned enough to be safe to eat.
Next is one of the chicken dishesDiaboraThe image of the fragrance of the dish, the diabora-style sauce that was easily finished using vegetables was put on a assortment of chicken and hamburger "Assorted chicken lily and hamburger with diabora sauce(699 yen including tax) ".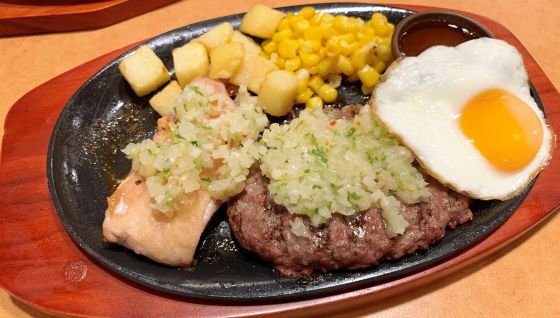 The finely chopped onion has a crunchy texture. The garlic flavored sauce enhances the taste of the meat.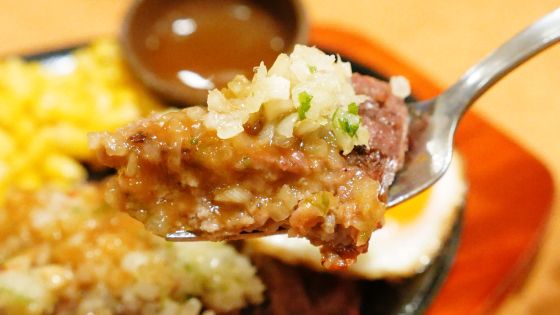 Seasonally onlyMushroom soup(149 yen including tax) "has also appeared. It is said that it is finished in an adult soup rich in mushroom fragrance, and when you take a sip, the rich mushroom flavor spreads over your mouth. Ali was cool to drink as a cold soup.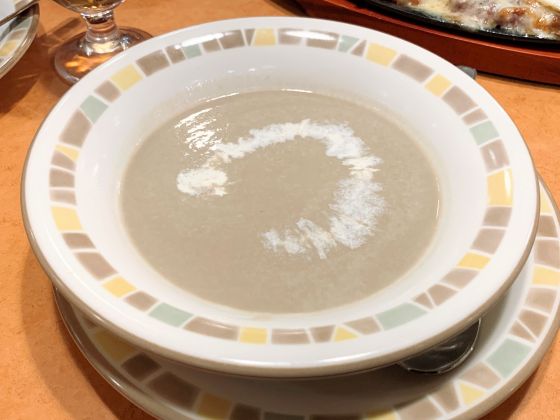 Simply seasoned with cabbage, pancetta and gran moravia cheeseRustic soft cabbage soup(299 yen) "is a simple taste, and the consomme assists the sweetness of the slowly-simmered vegetables.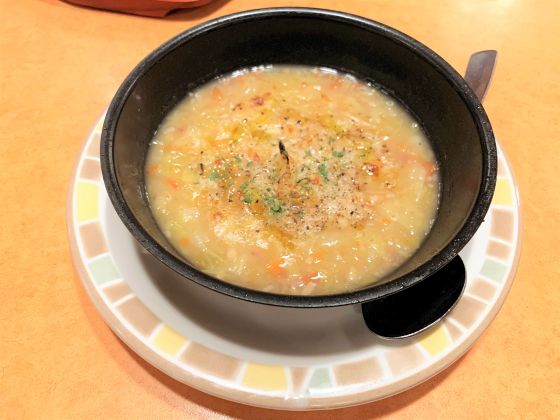 The flavor of the cheese is not so much but it is savoryPancettaThis is a good accent that warms your body perfectly in cold winter.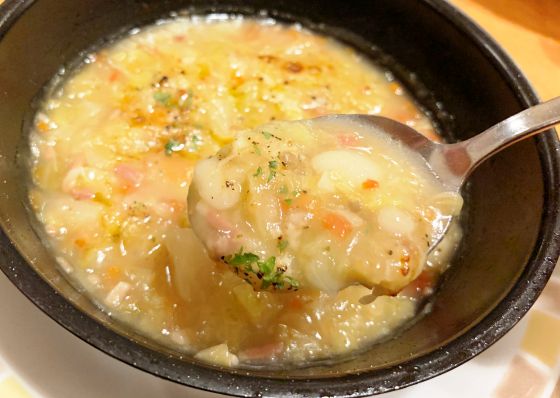 Appeared as a seasonal menuSoft meat and savory vegetables Potov(¥ 899 including tax) "is a full-volume menu that uses two types of meat, beef shin and chicken wings, with onions, carrots and potatoes.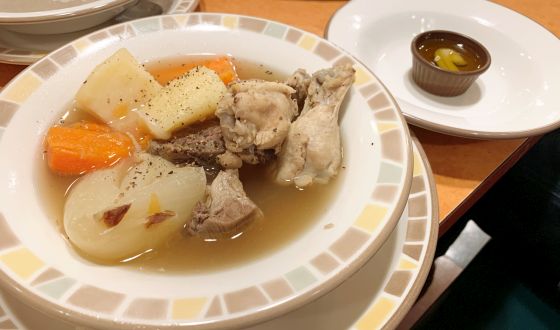 Above all, the beef shin is boiled until it becomes guilty and the meat melts as soon as you put it in your mouth. Vegetable and meat soup with plenty of umami tastes well.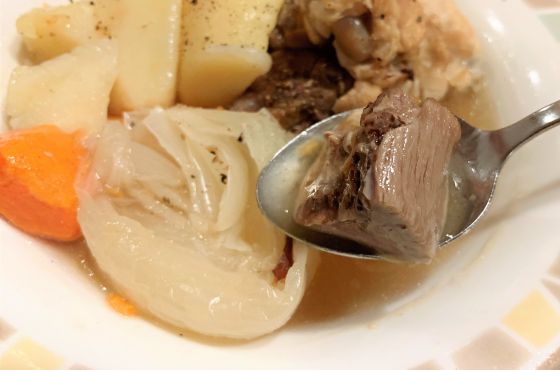 The garlic-flavored "Ario sauce" is attached as an attachment, so let's try it.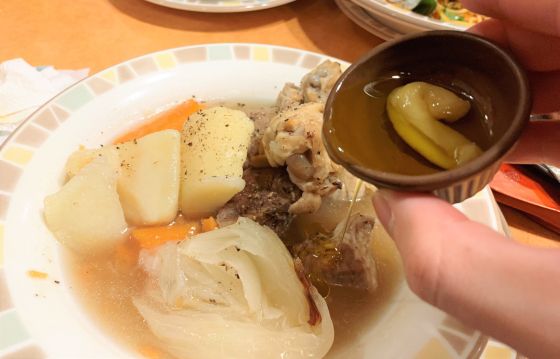 The sourness of the Ario sauce is exquisitely matched with the taste of the meat. The flavor of garlic is not so much, so even people who are worried about the smell of garlic can eat it.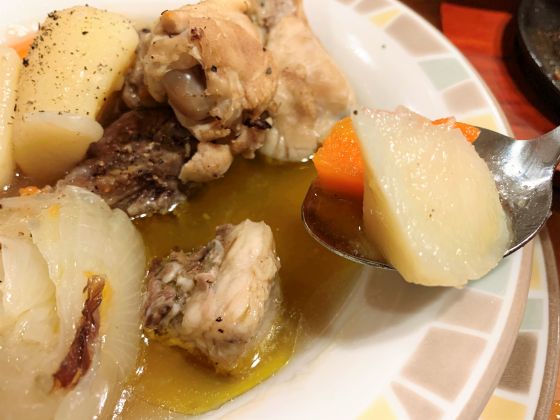 He also said that he could enjoy the change in taste by adding olive oil and chili pepper. Because it is a limited time menu, it is recommended that people who want to eat come to the store early.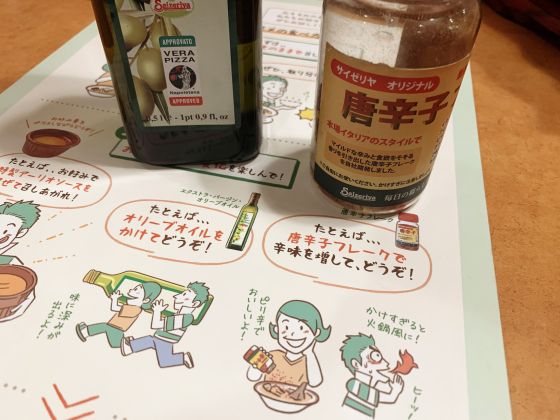 Finally, I will eat dessert. Seasonal " with meringue in sweet cream ''Melingata(199 yen including tax).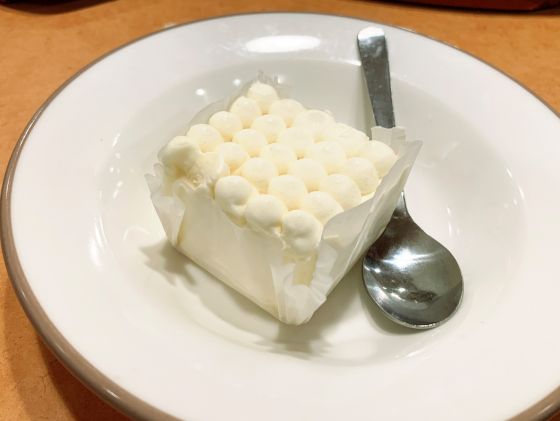 There is a meringue cookie under the vanilla ice cream, and when I put it in my mouth, the ice melted like a fluffy cream, but I felt the crunchy texture of the meringue. It's so sweet that you want to eat it with coffee.
Two ice creams of milk and coffee are used for crushing meringue "White trif ice cream(369 yen including tax) "is also available as a seasonal menu. The chocolate ice cream was rather small, so the flavor was slightly scented in the mouth, and it was a delicious dessert with a rich texture of milk ice and crispy meringue.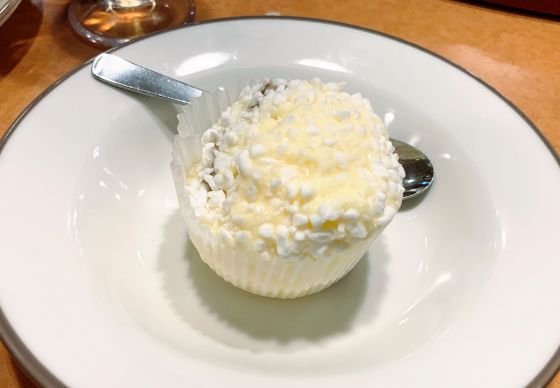 Seasonal limited gorgeous appearanceApple wine compote(399 yen including tax) "is a combination of apples and rich vanilla ice cream that has been carefully cooked in red wine, accented with nut flavor.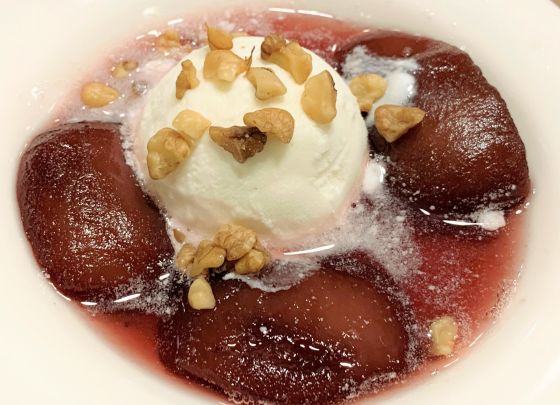 Sweet dessert wine served as an after-meal drinkLacon Briccola(200 yen including tax) "in your mouth, you will feel the sweetness of concentrated grapes, while the alcohol content is 14.5% and the throat is curly. Alcohol content 14.5% If you are not good at alcohol, you may want to refrain from ordering.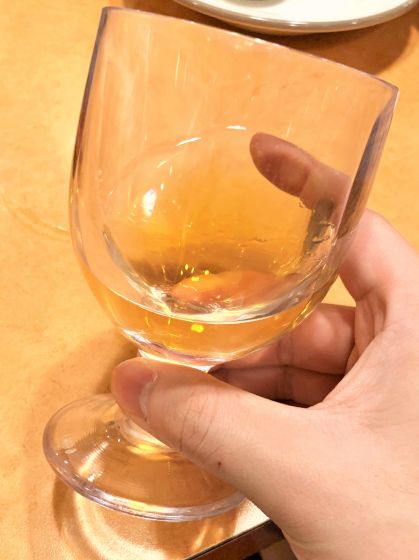 When I visited, only "strawberry panna cotta (299 yen including tax)" was out of stock, so I ate at another store later. Strawberry sauce is on panna cotta with plenty of milk.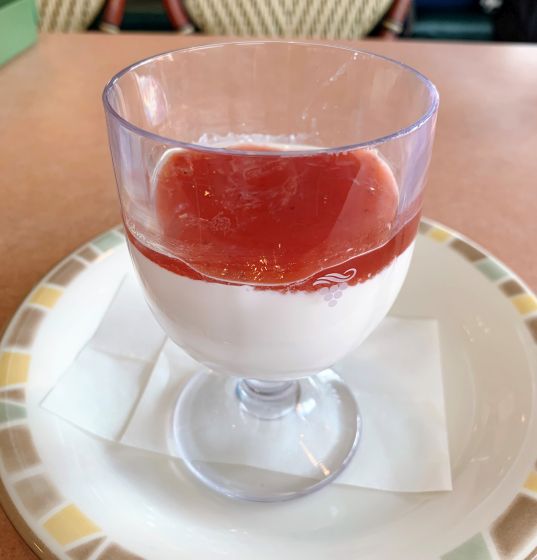 The sweetness of panna cotta is well matched to the strong sourness of the strawberry. The sauce was smooth and the texture was also enjoyable.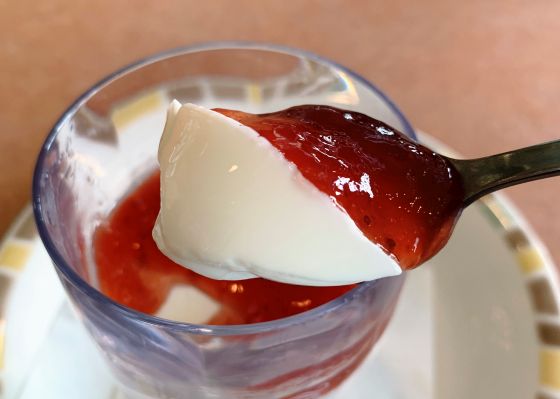 … So that's 19 new items that appeared in the menu revision of Saizeriya. " Allosticini '' made of lamb meat skewers is often out of stock, and there are seasonal items in the new menu, so if you want to eat sure, please contact nearby Saizeriya early It seemed good to go from
Copy the title and URL of this article
Source link