Digital Camera
Small video camera with built-in Wi-Fi gimbal "Feiyu pocket"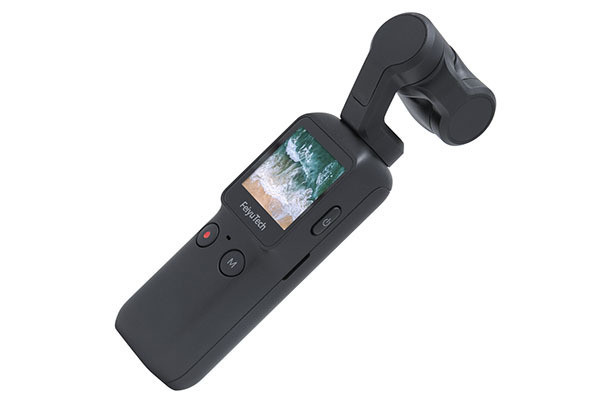 TS TRADE announced on April 17 a small video camera with a gimbal "Feiyu pocket" made by China's FeiyuTech. It is a product similar in style to DJI's "Osmo Pocket," and has reduced costs while incorporating additional functions such as built-in Wi-Fi. The price is 29,500 yen [excluding tax], and the release is scheduled for the end of 2020. From April 17th, recruitment will begin at the cloud funding "GREEN FUNDING".
Pocket camcorder weighs 115g and is a compact video camera with a gimbal. Equipped with 6-axis hybrid stabilizer with 3-axis mechanical gimbal and 3-axis electronic anti-shaking mechanism. The high-twist brushless motor allows you to shoot images with less blur than normal gimbals.
The camera unit has a built-in 1 / 2.5-inch CMOS sensor made by Sony and can shoot at 4K / 60fps. The lens has a 6-layer 120-degree wide-angle specification, and the anti-distortion function corrects distortion during wide-angle shooting. The display is a 1.3-inch size that supports touch operation. It also has a built-in Wi-Fi function and can be wirelessly connected to a smartphone.
Drive time with built-in battery is up to 270 minutes. You can also charge while shooting. Use a microSD memory card [up to 512GB] as the recording medium. The bottom has a tripod hole. The main body size is W40.5 x D30 x H124.5 mm, and the weight is 115 g [including battery].
As the opening plan of GREEN FUNDING, we will also carry out a 24% off campaign with a limit of 100 early purchases.
Source link