IT Lifehack
"So-net" x Poptepi's "AC Club" collaboration launches original animation "Dubnets-not the Internet-PPP World"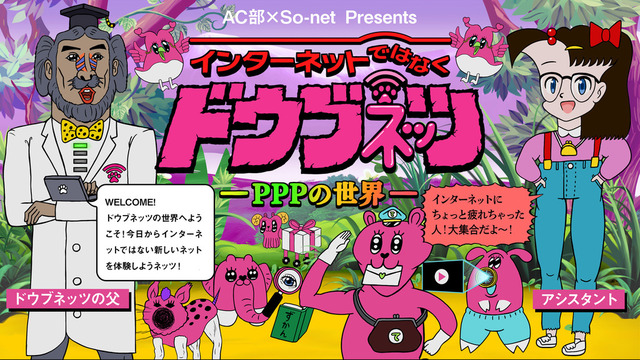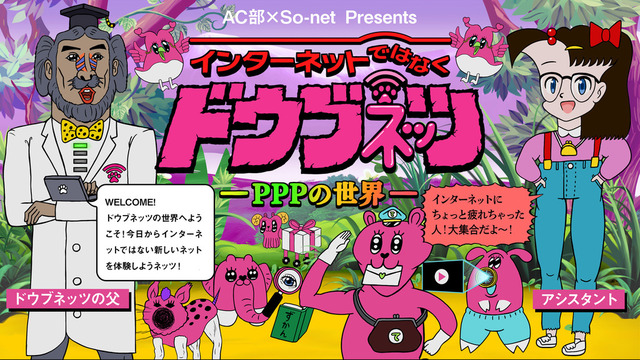 So-net, an Internet provider service operated by Sony Network Communications, will launch a new original animation "Dubnets-not the Internet-PPP World-" in collaboration with the creative team "AC Department" in March 2020. Released on Friday, March 27.

At the same time, a campaign where users tweet with the hashtag "#Nets troubled" is also held. In addition to the original sticker gift, the AC department will create an original episode based on the posted content.
By observing the ecology of the Doubttu "PPP" that inhabits the "world of Doubnets", this work is an animated work that allows you to know the fun and cautions of connecting via the Internet that you want to know again now. The video is composed of five episodes and will be released sequentially on the special site opened at the same time.
On the special site, we will provide "somewhat free materials" using cute PPPs that appear in the videos, introduce the original character "PPP", introduce information on the campaign held at the same time, and more. The contents are varied.
With the release, we started recruiting "# Nets troubled nets" as a gift campaign on Twitter. In this campaign, original stickers will be given to 100 people by lottery from among the applicants.
In the fifth episode of this anime, the AC department will also select episodes from the ## Nets troubled posts post and create animations, and will also implement new, participatory initiatives.
■Doubnets, not the Internet-The World of PPP-
■IT Life Hack Facebook
■Articles related to cultureI Read
・I wonder if this is already good! ? The ultimate gaming space " gaming bed '' from Beads
・If you are under elementary school age, Ippudo's "Kids Ramen" is free! Spring break / Child support campaign
・N Preparatory School opens new programming course for 3D / 2D games using "Unity" to general members-Master Unity during spring break-
・Benesse supports corona measures in all grades! Newly opened "Online Kindergarten" where "Children Challenge" can live a kindergarten even if it is remote
・We can talk to specialist from smartphone and PC! Started online second opinion outpatient clinic utilizing the online clinical system "CLINICS" at 18 departments of Tokyo University Hospital

AC section
Loklin
2018-11-15
2018-01-07
COSPA
2018-05-25