Headline
SoftBank considers unlimited plan for 5G-mentions OYO trouble and arrest of former employee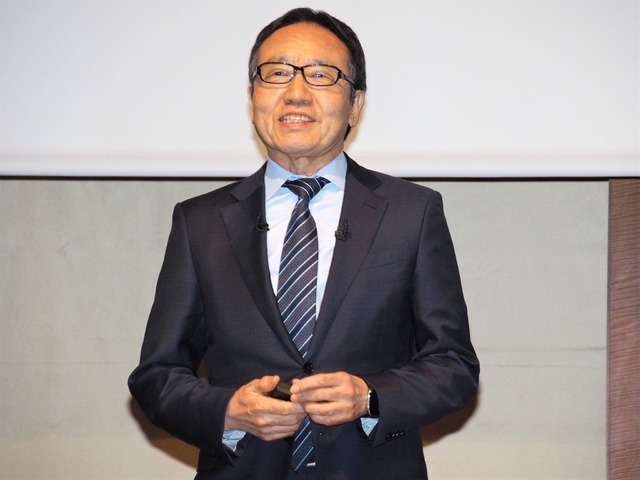 On February 7, SoftBank announced the financial results for the third quarter of the fiscal year ending March 2020. Sales were up 4.7% YoY to ¥ 3,618 billion, and operating income was up 9% to ¥ 795.1 billion.
At a earnings briefing held on the same day, Ken Miyauchi, CEO and CEO of the company, said that if the effects of the consolidation of Z Holdings, which has Yahoo He explained that operating profit would increase by 30% and operating profit by 25%.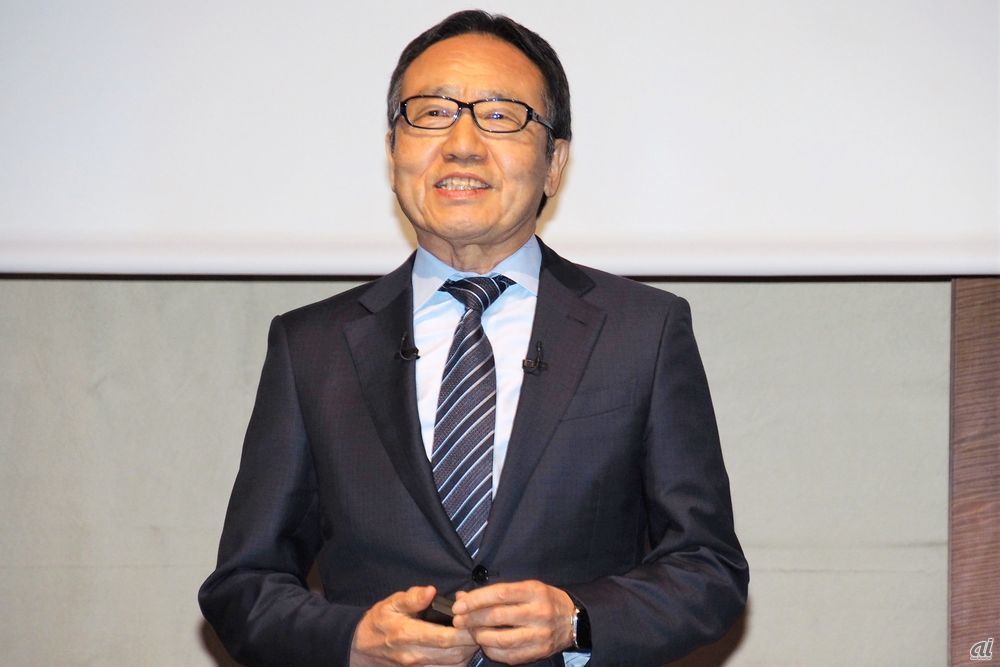 Mr. Miyauchi of Softbank presenting at financial results briefing
内 Mr. Miyauchi has announced an upward revision to its consolidated earnings forecast for FY2019, as all businesses, including Yahoo, whose earnings have already been announced, are growing steadily. The company expects sales to increase by 20 billion yen to 4,820 billion yen and operating profit to increase by 10 billion yen to 900 billion yen.
On the other hand, net income is expected to remain unchanged since Z Holdings and LINE are planning to integrate their business in 2020, and will post their corporate tax in the third quarter.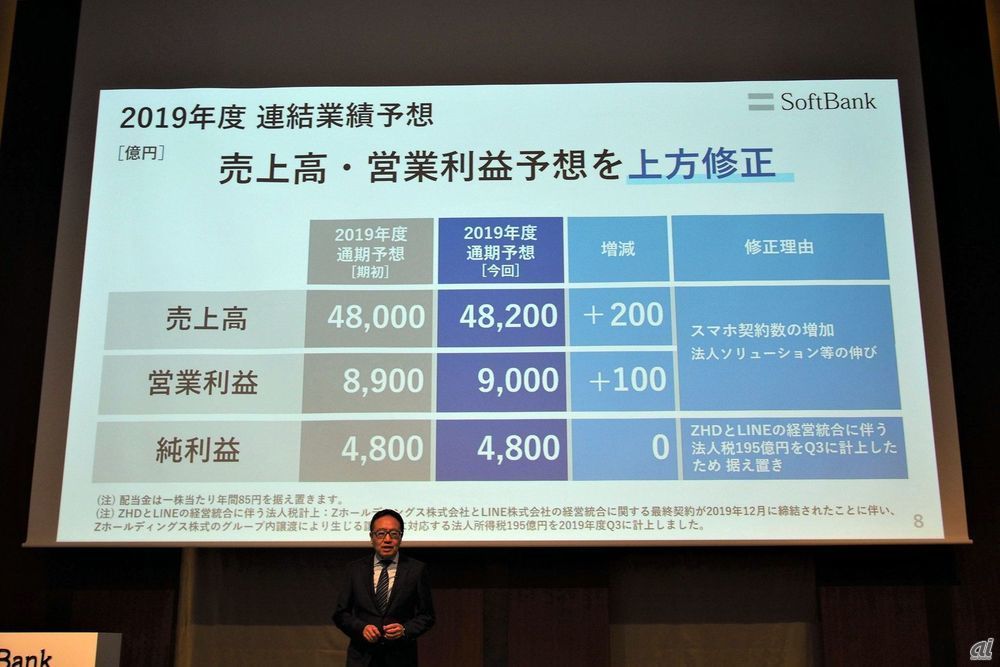 Due to strong business performance, the full-year consolidated earnings forecast has been revised upward. Sales and net profit are added by 20 billion yen and 10 billion yen, respectively.
5G area expansion expected for 4G frequency conversion
According to Mr. Miyauchi, the strong performance of the telecommunications business has affected the good results. In particular, the number of smartphone subscriptions was strong, and all brands of SoftBank, Y-Mobile, and LINE Mobile grew. The cumulative number of subscriptions reached 23.48 million, and the smartphone churn rate was a record low of 0.53%. And that has led to increased sales.
According to the company, "increase", which indicates the number of smartphone contracts increased compared to the end of the same period of the previous year, reached 2.20 million in the third quarter, Miyauchi said. He said he was going to increase by 2 million a year, but he will definitely achieve this term. "
Meanwhile, since the Telecommunications Business Law was revised in October 2019, sales of products and other products have fallen due to the last-minute demand for handsets in September, the previous month, but it is on a recovery track thereafter. He explains, "I think it's temporary."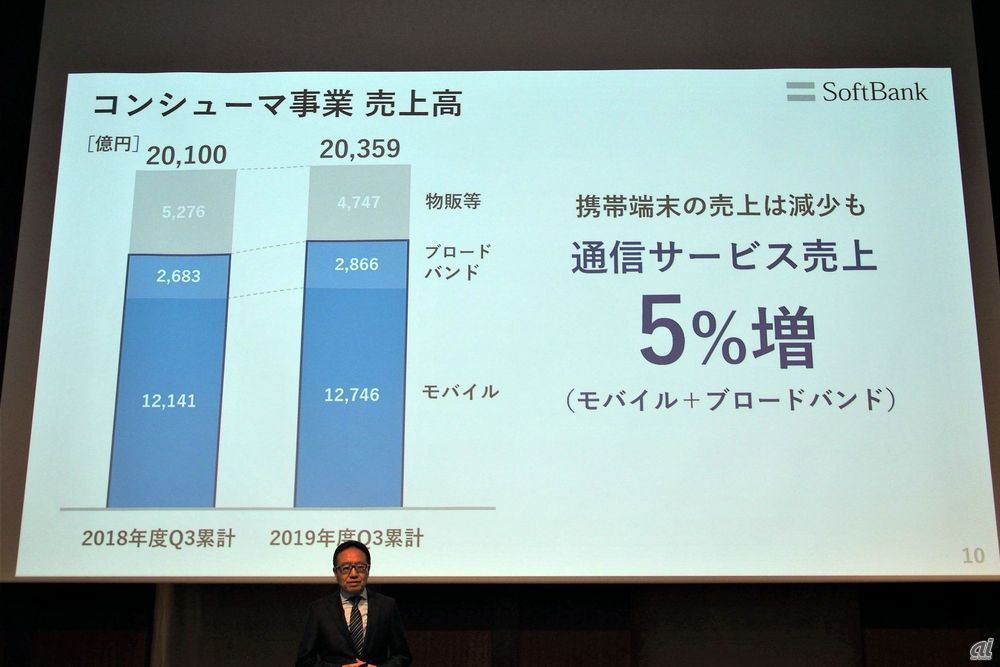 Mobile and broadband sales were strong, but merchandise sales declined in reaction to last-minute demand before the law was revised. But now he is on a recovery track
Mr. Miyauchi also said that with regard to 5G commercial services scheduled to start in March 2020, Mr. Miyauchi said, "Starting from the end of next month," and said that it will start at the end of March. Initially, the company is focusing on sales to consumers, and in anticipation of this, it is also focusing on providing services such as XR and cloud games.
Regarding charges, he said, "In the 5G era, we will have to become an unlimited world," he said, and said he was considering a plan with unlimited traffic.
While terminating the 3G service in 2024, the 5G service will reveal the end of March 2020. It seems that the rate plan is considering one with unlimited traffic
Mr. Miyauchi says that the corporate business is also supporting the strong performance of the telecommunications business. Among them, solutions and other businesses are growing, especially because the cloud domain is growing 1.3 times in one year.
On the other hand, in the digital marketing area, he said, " We have just started catching up and it is growing 1.2 times, but we think that it will grow twice in the future '' He said that he is working hard to establish Incudata, a consulting company that uses data.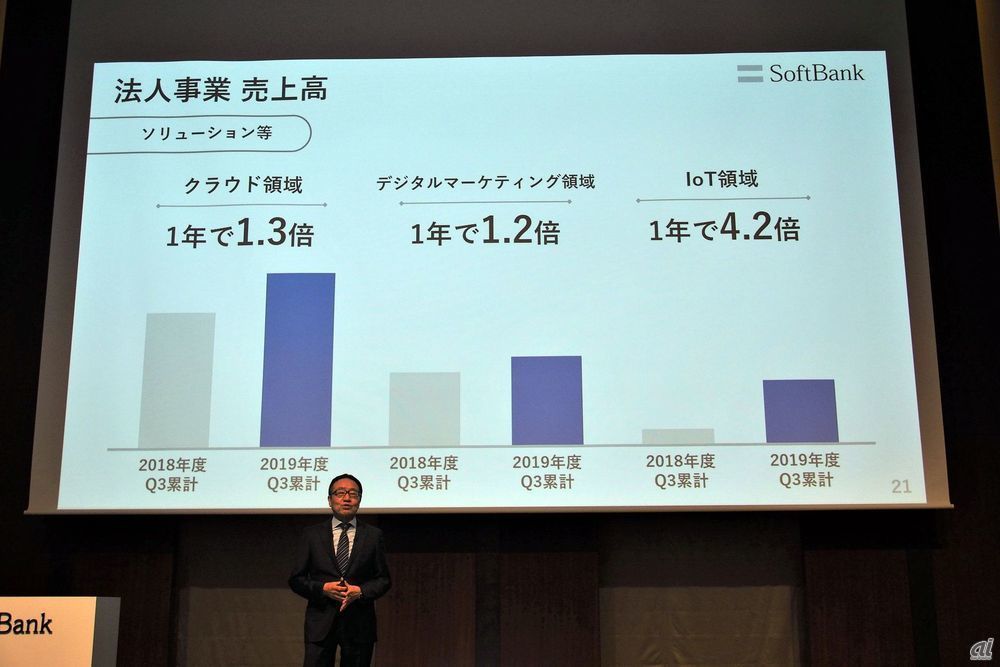 In the corporate business, the solution business centered on the cloud is growing significantly. Looking forward to growing digital marketing domain
内 Furthermore, Mr. Miyauchi explained that digital transformation of companies will accelerate with the spread of 5G, and that it will grow further, especially in the IoT domain. He hopes to help solve social issues in various fields and promote social contributions.
Regarding the development of the 5G area, Junichi Miyagawa, Representative Director, Executive Vice President and CTO of the company, will expand the 5G area by converting the 4G frequency band to 5G, which is currently being discussed by the Ministry of Internal Affairs and Communications. It also clarifies the idea of ​​pushing forward.
According to Miyauchi, "the frequency band allocated for 5G was a band that was difficult to deploy base stations because of interference with satellites. It is very useful indoors, but it is difficult to deploy on the surface." The plan is to achieve a population coverage of 90% in 2021.
Source link