IT Lifehack
Sony releases wireless speaker of EXTRA BASS series that can enjoy smartphone music with newly developed "X-Balanced Speaker Unit"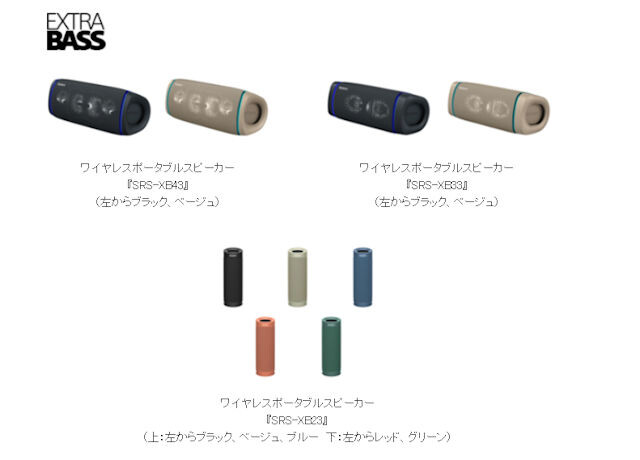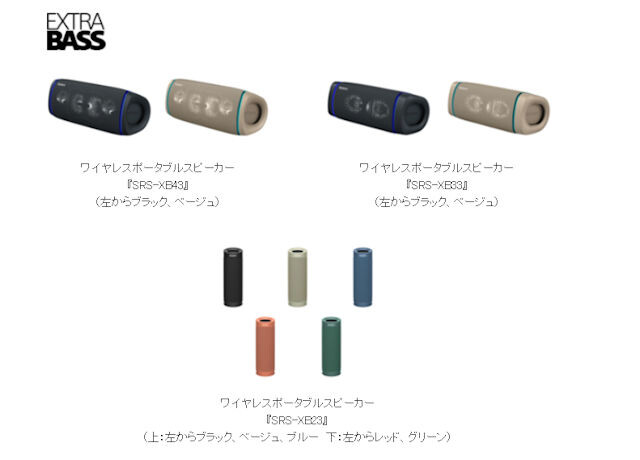 Sony's EXTRA BASS series, which has realized powerful bass, is equipped with the newly developed "X-Balanced Speaker Unit [X-balanced speaker unit]" so that the music of smartphones connected wirelessly can be further enhanced in sound quality. We will release three models of Bluetooth compatible wireless speakers "SRS-XB43", "SRS-XB33", "SRS-XB23" that can be enjoyed in deep bass.The price is open price, the estimated store price is "SRS-XB43" is 20,000 Around 3,000 yen, "SRS-XB33" around 18,000 yen, "SRS-XB23" around 12,000 yen [tax excluded].

"SRS-XB43", "SRS-XB33", "SRS-XB23" are equipped with Sony's original "X-Balanced Speaker Unit" that expands the area of ​​the diaphragm while maintaining the compactness of the speaker body. Realized high sound quality and powerful sound pressure. In addition to this, a passive radiator that enhances the low range is placed on the side of the main unit to expand the area. You can experience clearer and more powerful bass.
In addition, the "SRS-XB43" has a new design tweeter that is ideal for woofers of the "X-Balanced Speaker Unit," improving the sound resolution. You can enjoy not only vocals with high transparency but also low-range to mid-high range in good balance.
In addition, all three models are equipped with "DSEE" that effectively complements the treble range of compressed sound sources such as music distribution services, and plays with a sound that is wider than the original sound. It also supports LDAC/AAC codecs that can play music enjoyed on smartphones with high sound quality.
The "SRS-XB43" and "SRS-XB33" are equipped with a "live sound" mode that allows you to experience the presence of a live venue. Sony's original algorithm has evolved, and while maintaining the clarity of vocals, by activating this mode, which has further expanded the sound, you can enjoy music with a greater sense of presence.
All three models support IP67 waterproof and dustproof*2 as well as conventional models, as well as rustproof performance. It is strong against rust and can be used not only in the bathroom and kitchen, but also in outdoor scenes such as the sea.
In addition, since all three models can play back stereo in the same way as the conventional models, you can enjoy a wide range of high-quality sound even in a compact size.
■Articles related to digital home appliancesI Read
・Set up to 9 350 ml cans and push the button to bring out the cans. Cool and warm storage "My Vending Machine HOT&COOL".
・The 3rd Soundbar "Soundcore Infini Pro" from Anchor Japan that supports Dolby Atmos & 2.1ch and realizes three-dimensional surround sound
・Supports both cold and heat retention! Maintain the temperature of the drink for a long time! "Hot and cold drink capsules" that can be used on the desktop hot and cold holder desk for one
・Four models of "LUCA series" LCD TVs with built-in 4K tuners that realize more natural and vivid images from Iris Ohyama
・Large-screen display will be available at a reasonable price until Monday, June 8! Large 75-inch 4K LCD "JN-IPS7500TUHD" from JAPAN NEXT