IT Lifehack
Sony's "StartDash" web application for commercialization support is now compatible with smartphones! Recruitment of the second phase of the business idea contest also started at the same time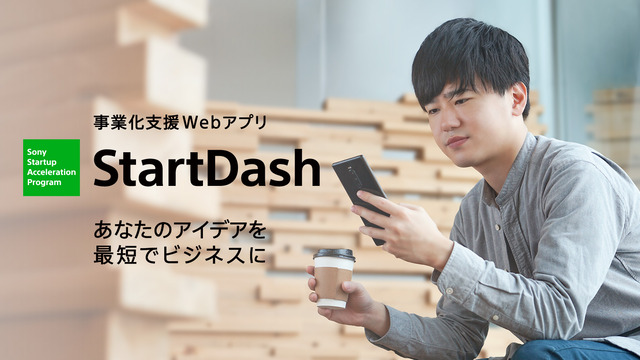 Sony has announced that it has released version 3.0 of its web application "StartDash", which will help you efficiently prepare for starting a new business. At the same time, we have begun recruiting the business idea contest "StartDash Idea Contest-2020 Spring Phase 2".

■ Compatible with smartphones and tablets, input and confirmation can be advanced anytime, anywhere
It can be operated from a smartphone or tablet, as well as a PC as before. Even busy people who have difficulty calm down and can't secure enough time can input information and check items using the time available during commuting or commuting. You can update your input whenever you come up with it, making it easier to organize your ideas.
■ Compatible with task and memo input functions
For the business idea under consideration so that it can be linked with the small issues that need to be considered later. It can be used to look back at the appropriate timing and take time to review and organize, and it can be used for preventing omissions and efficient progress. Also added a memo function to each item. By recording your thoughts and the history of the discussion, you can easily grasp the details even when you look back later.
In addition, we have started recruiting "StartDash Idea Contest-2020 Spring Phase 2". Through the Sony Startup Acceleration Program [SSAP], which supports the creation and operation of startups, the company is looking for a completely online business idea contest that can be entered using the "business concept" that can be easily created using StartDash. ing. The application period is from February 3, 2020 [Monday] 14:00 to March 4, 2020 [Wednesday] 12:00.
■Articles related to Shanghai wholesalerI Read
・"House prepaid card" of value design that can incorporate attractive original services like a luxury shoe polish store "Brift H"
・In the Reiwa era, where there is a shortage of human resources, deploying mainly solution-type dispatch services! Adeco Group's VSN announces a new service " Modis VSN '' that captures changes in the technician labor market
・Easy on the net! " Cloud loan '', the only platform in Japan between individuals and banks that can receive low interest loans from banks even for individuals, starts
・ANA conducts verification test at Haneda Airport to commercialize large-scale autonomous driving bus-Aims for test operation within 2020 using electric bus-
・Everybody's taxi expands "Ringo Pass" demonstration test using tablet with rear seat as the first JR East partnership