Headline
Space market, NTT East, satellite office with same day contracts available-from 1 hour minimum
On April 24th, Space Market announced that it will start a satellite office support service that will allow us to contract with a satellite office of a company in the shortest possible day in cooperation with NTT East.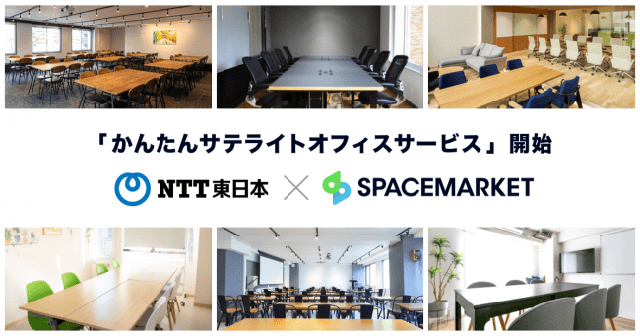 Contract a corporate satellite office in the shortest possible day
With this partnership, the space market proposes office spaces from more than 13,000 spaces nationwide according to the conditions of the company. NTT East will support the introduction of ICT equipment such as the network environment maintenance necessary for satellite offices.
Furniture and home appliances are installed in the rental space, and no security deposit or key money is required. The contract period can be selected from a minimum of 1 hour daily loan or monthly loan.
According to the space market, while many companies are migrating to remote work and more companies are adopting telecommuting, in response to the voices of employees who have adopted remote work, companies are taking steps to implement improvement measures. It is being considered.
In addition to the lack of an Internet environment and security issues, the challenges of remote work and work from home include the difficulty of working in the same space while caring for children, and the physical and physical impact of working in furniture and environments that are not for the office. There is something wrong.
Also, in the office environment, if an infectious disease is found in the office or in an office building, the entire building is often off-limits for a certain period of time, so the need for a satellite office is becoming apparent as a provision. .
Furthermore, as the standards for hygiene management required for offices increased, there were problems such as being unable to implement preventive measures against infectious diseases in rooms where ventilation measures cannot be taken or in office spaces with high density.
With this initiative, Schace Market aims to provide a highly secure satellite office space that minimizes initial costs and allows easy contracts from daily rentals to monthly rentals.
Source link