Technology
Summary of announcement at online event "Architecture Day 2020" such as Intel's next-generation mobile processor "Tiger Lake" and Xe graphics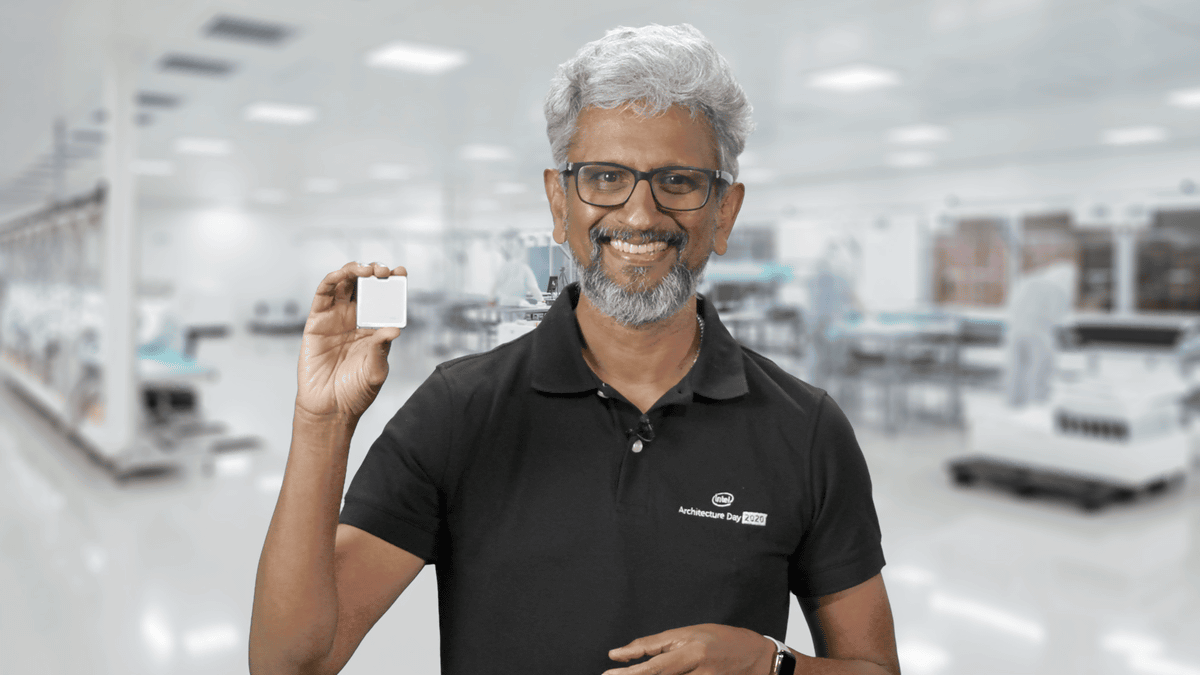 Summary of announcement at online event "Architecture Day 2020" such as Intel's next-generation mobile processor "Tiger Lake" and Xe graphics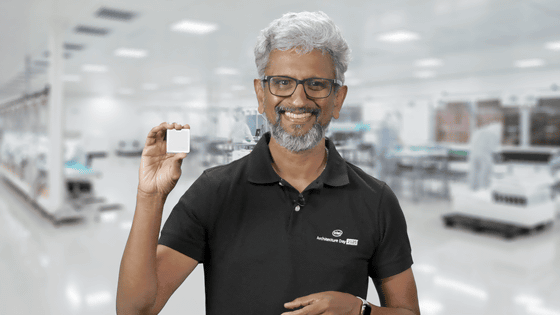 Intel held an online event "Architecture Day 2020" on August 11, 2020 (Tuesday). Among them, next-generation SoCTiger Lake"Or a unique GPU architecture"XeInformation was announced.
Architecture Day 2020 | Intel Newsroom
https://newsroom.intel.com/press-kits/architecture-day-2020/
◆Next Generation SoC with 11th Generation Core "Tiger Lake"
Intel's next-generation mobile processor "Tiger Lake" is the 11th generation Core "Willow CoveIs equipped with 4 cores, and the GPU<a href="https://gigazine.net/Willow%20Cove"target="_blank">Xe-LPIt also has 96 graphics execution units. In addition to supporting LPDDR5 memory, it also supports PCIe 4.0 and GNA 2.0. In addition, L2 cache was increased from 1.25MB to 512MB in the previous generation Sunny Cove, and L3 cache was also increased to 24MB.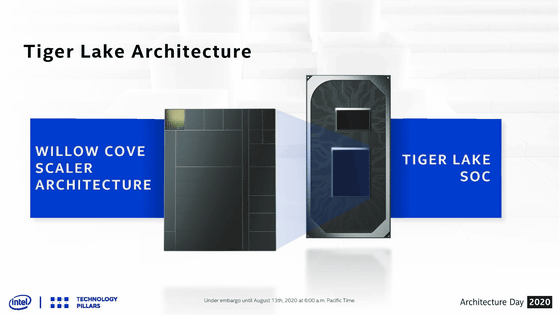 In addition, Tiger Lake says that while the previous generation Ice Lake was manufactured with Intel 10 nm process,Intel 10nm SuperFinThe point is that we have adopted a new manufacturing process. This Intel 10nm Super Fin is positioned as an improved version of the conventional 10nm process.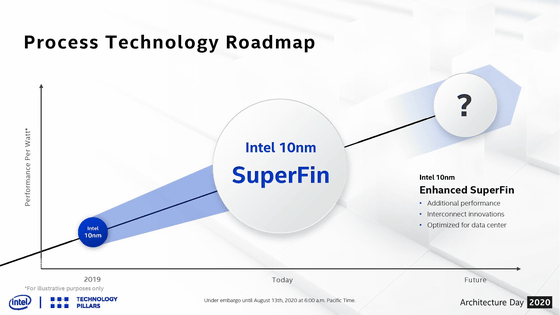 By Intel 10nm SuperFinClock speedIntel has appealed that it has improved and reduced power consumption. Willow Cove seems to have significantly improved performance compared to the previous generation Sunny Cove.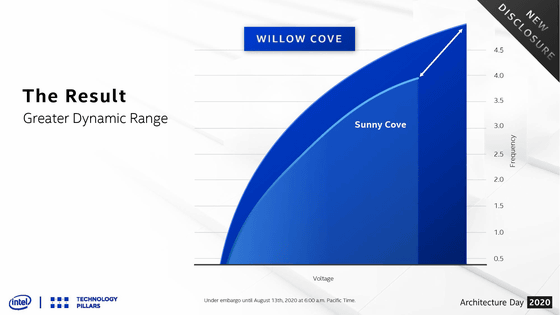 ◆Intel 12th Generation "Xe" Graphic Architecture
First seen at Tiger Lake, the Xe-LP graphics are Intel's 12th generation graphics architecture, designed for improved performance and reduced power consumption. IntelDoom EternalOrBattlefield VEven with AAA titles such as, it was appealed that Xe-LP graphics can be played smoothly at 1080p. The game that was running for the first time on the SoC with the 11th generation Intel HD graphics and the power consumption of 25 W, which is the previous generation, said that if the SoC with Xe-LP is installed, it can play even with 15 W of power consumption. ..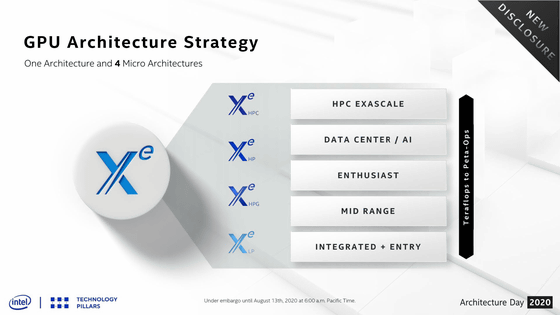 Also, this Xe-LP is not only as one part of SoC, but Intel will "release it in 2020"Announced in 2018It is said that it will be adopted for the discrete GPU "DG1" and the server-oriented GPU "SG1". DG1 which adopted Intel 10nm SuperFin in the manufacturing process will be sold for O and EM, and Intel has announced that it has already started production.
Xe-HP for the data center, Xe-HPC for the general public, and Xe-HPG for gaming were also announced. Detailed specifications have not been announced, but the Xe-HPG will be produced by a third-party foundry and will appear in 2021. Intel's release of discrete GPUs for gaming means competing with NVIDIA, which develops the GeForce brand, and AMD, which develops the Radeon brand, as rivals.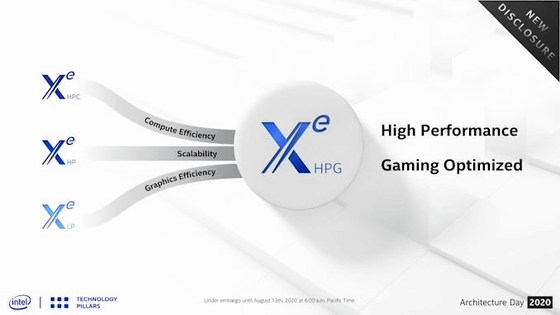 ◆4 layers for Intel 2nd Generation Optane SSD3D XPointmemory
Intel announced memory technology "in 2019Optane technologyWas appliedOptane persistent memoryWhenOptane™ DC SSDIs being sold. Barlow Pass and Alder Stream using the second generation of Optane memory using this Optane technology are scheduled to be launched in 2020.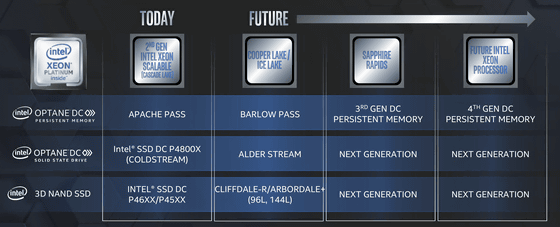 In the 2nd generation Optane memory, the memory cell array, which had a two-layer structure, is changed to a four-layer structure, achieving double the recording density of the conventional type. When combined with an SSD controller that supports PCIe 4.0, it can be expected to have a read/write speed that is more than double that of the Optane SSD released at the time of article creation. It also seems to improve the latency of random read speed.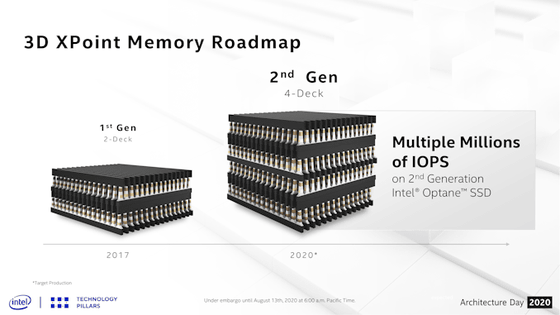 3D Xpoint used for non-volatile memory is a technology developed by Intel and Micron Technology of semiconductor manufacturing. Since 3D XPoint will also be used for the 2nd Generation Optane SSD, manufacturing is probably expected by Micron Technology.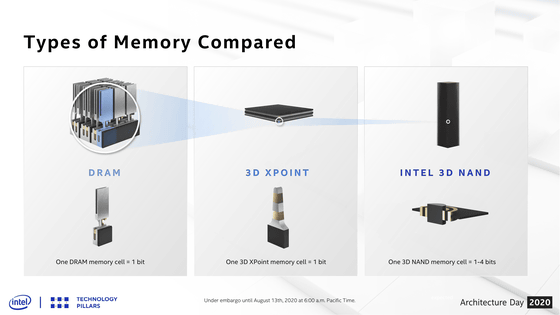 ◆2021 roadmap
Intel announced that the next generation of Willow Cove will be the Golden Cove core with a 10nm process in 2021. As a result, it can be expected to further improve performance, optimize AI and 5G communication, and improve security. The desktop processor "Alder Lake" that adopts the Hybrid x86 architecture, which is scheduled to appear in 2021, is the ARM processor with the Golden Cove 1 core and the next-generation Atom core Gracemont 4 core.big.LITTLEIt seems that it will be configured like.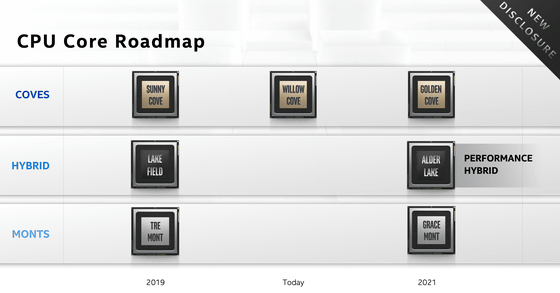 Copy the title and URL of this article
Source link