Headline
Tanita, alcohol inspection without the need for attendants–"ALBLO cloud service"
Tanita announced on June 11 that it will start offering an alcohol inspection service "ALBLO cloud service" that meets the alcohol inspection obligation standards for air transport operators established by the Ministry of Land, Infrastructure, Transport and Tourism.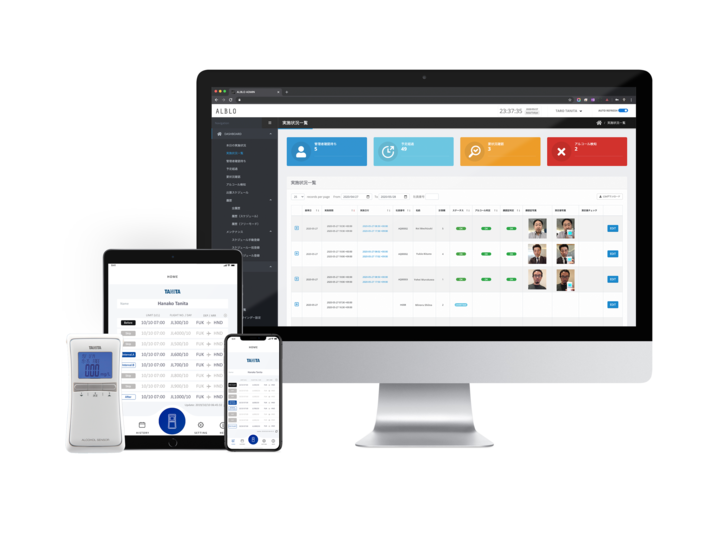 The service uses the alcohol detector "ALBLO FC-1000" that uses the company's fuel cell type alcohol sensor. In addition to the face authentication of the examinee, by recording the behavior during the examination, it is possible to prevent fraud such as spoofing and replacement of the detector.
Developed jointly with Actia, which is responsible for the planning, construction, and operation of business platforms, utilizing the know-how of service design and platform construction using Actia's advanced technology.
ㆍInspection result is sent to ALBLO cloud and kept on cloud for a certain period. Furthermore, it is transferred to the system of the service provider.
Also, since it is a cloud-type service, operators can reduce costs and introduce it in a short period of time. The function can be easily expanded by linking with the system of the business operator.
For example, if the inspection is not performed or the result exceeds the standard value, it is possible to build a system for temporarily suspending the operation preparation in the system of the operator of the installation destination.
According to the company, domestic airlines have already started test operation of alcohol inspection system based on the mechanism of the service. The company intends to use this as an opportunity to provide a wide range of services to air carriers and other carriers that need alcohol protection.
The service conforms to the industry standard alcohol inspection system construction standards established by the Japan Airlines Association. Alcohol tests can be conducted without the presence of witnesses, which reduces the cost of installation and operation and improves the efficiency of operations.
Price is 15,000 yen excluding tax per administrator ID at the time of introduction. Monthly tax of 2000 yen per subject ID. In addition to air carriers, we will provide services to carriers that need alcohol protection, such as buses and ships.
Source link