IT Lifehack
The anime "Kimetsu no Yaiba" character is on the pouch! Aqua beads pen pouch set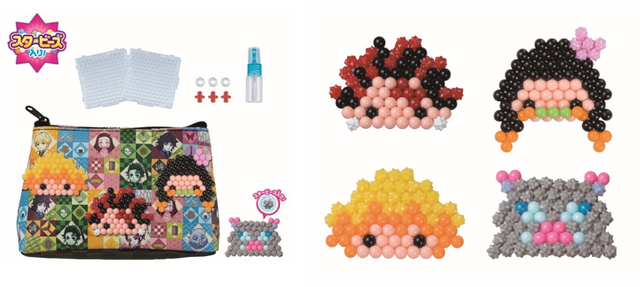 ■ Mysterious beads that stick with water
Epoch Co., Ltd. will release "Aquabeads Pen Pouch Set Kimetsu no Yaiba" (1,980 yen including tax) on Saturday, May 29, 2021.
Aqua beads are mysterious beads that stick together with water. It's very easy to play. Just arrange the beads according to the illustration sheet and sprinkle water with a spray bottle, and you have a cute mascot!
"Aqua beads pen pouch set Kimetsu no Yaiba" can be played by making the main characters of the anime "Kimetsu no Yaiba", Kanjiro, Sadako, Zeni, and Inosuke.
It is an all-in-one type that contains beads, a tray, a spray bottle and a pen pouch, so you can enjoy it only with this product. In addition, you can decorate the finished work on the pen pouch of the set, and you can change the work to your liking.
<Product overview>
Product name: AQ-340 Aqua beads pen pouch set Devil's blade
Release date: Scheduled for May 29, 2021
Price: ¥ 1,980 (tax included)
Set contents: Approximately 380 beads in 14 colors in total, bead tray x 2, spray bottle, pouch, joint parts x 3, stop parts x 3
Copyright notice: © Koyoharu Gotouge / Shueisha / Aniplex / ufotable © POCH
■AQ-340 Aqua beads pen pouch set Devil's blade
■Articles related to cultureI Read
・You can order for the first time from Tokyo! Pascal Le Gac "Petit Foolsec"
・Suntory Beer launches The Premium Malt's "# Best Time" project
・Tonkatsu meat weight increased by 20%! "Katsudon" and "Tonkatsu Bento" are now available with more power
・Not April Fool's Day! Is cabbage Neapolitan now? Birth of "Naporitan Chicken Nanban"
・Yakiniku Kingu, spring limited menu! Visiting local delicious things