Headline
The current state of development and co-creation–researcher thinking and technology required for innovative human resources
CVarious performances were held at CNET Japan Live 2020 held on February 19 with the theme of "Innovation indispensable for corporate growth". Among them, Mr. Hiroyasu Kodama of G's ACADEMY and Mr. Tsukasa Tada of RIKEN's Mathematical Science Creation Program [iTHEMS] are trying to create and nurture innovators and work on co-creation with companies. A panel discussion entitled "Developing and co-creating innovators" was held. The moderator was Mayumi Morishita of Epoch Seed.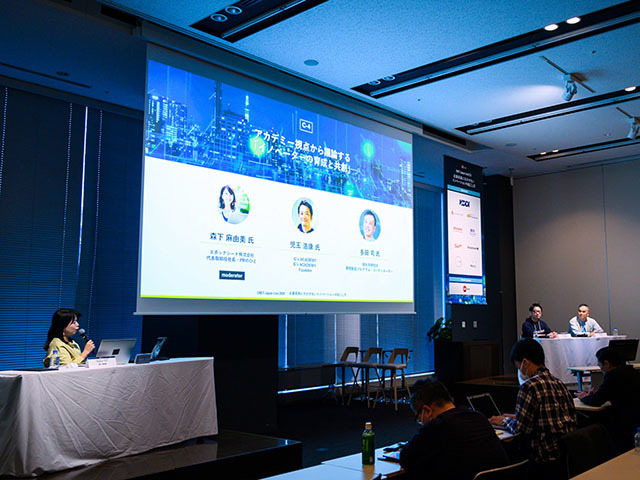 Panel discussion entitled "Discussing from the Academy's Perspective 'Fostering and Co-Creating Innovators'"
When starting the panel discussion, Mayumi Morishita commented, "I want you to know what is happening at the forefront of innovation human resources. In particular, I would like you to pay attention to three points. The other is the word crucible-type, and how you can make use of this in your organization. The third is the recruitment of human resources. " Was.
浩 Mr. Hiroyasu Kodama set up G's ACADEMY TOKYO in 2015 as an entrepreneur and engineer training school. A school with a slightly different approach to teaching programming and technology and producing entrepreneurs.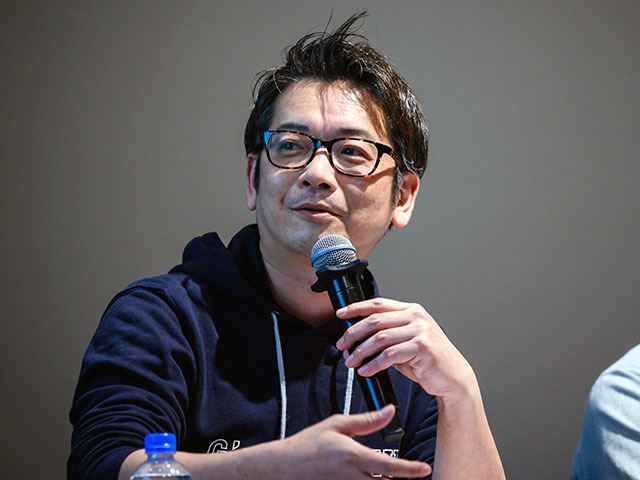 G's ACADEMY's Hiroyasu Kodama
Currently active in two locations in Tokyo and Fukuoka. It is said that graduates not only become engineers, but also become entrepreneurs and intrepreneurs. To date, 47 companies have been established and have successfully raised 2.78 billion yen.
First, learn programming to create original service products. After that, entrepreneurs will be introduced as an incubator with an investment of up to 5 million yen and various mentors. It also has a share office function, so it is possible to hire engineers from G's ACADEMY juniors. It is an ecosystem that can scale the early stages of startup.
In the last couple of years, there has been an increasing demand from major companies for open innovation utilizing entrepreneurs, and has provided an acceleration program. He has been working to promote chemical reactions between startups and large companies.
However, there are many cases where large companies are unable to make good use of the momentum and technology of startups, so we established "Biz COURSE," an open innovation support system triggered by education and training. We have prepared an in-training course for those who work for a large company to learn, plan with their own ideas, and make a prototype on their own. Finally, G's ACADEMY calls it a "reverse celeration program" in a style of hitting their projects against startups and brushing them up.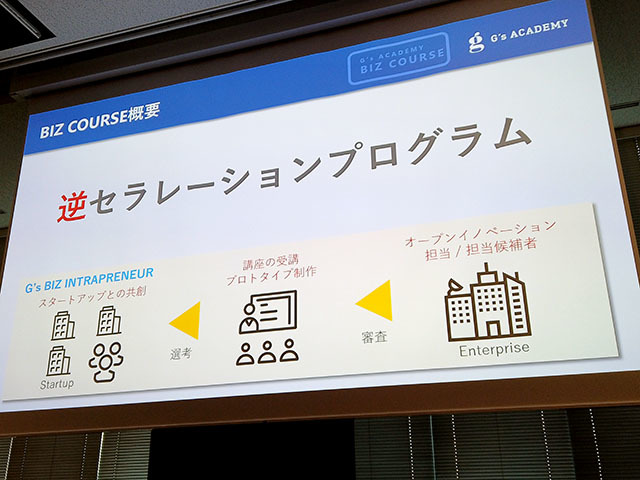 Reverse Serration Program
On the other hand, Tsukasa Tada, Coordinator of RIKEN's Mathematical Science Creation Program [iTHEMS], joined the office in 2002. He continues his research specializing in elementary particle theory. This time, we talked from the academy side.
RIKEN was established in 1917 as the largest natural science laboratory in Japan. There is a chief researcher system, and research can be performed independently. The current size is about 260 billion yen, the annual budget is about 98 billion yen, and it has about 3,000 researchers.
Mr. Tada participates in the mathematical creation program [iTHEMS]. An organization that gathers researchers from various fields so that they can do research beyond the barriers, because there is an invisible wall if they are doing research for a long time. Approximately 30 young researchers are at the core, aiming to create an environment where mathematical human resources can demonstrate their abilities, considering whether they can remove barriers not only in academia but also in business and industry. There are already some cases of joint research with venture companies.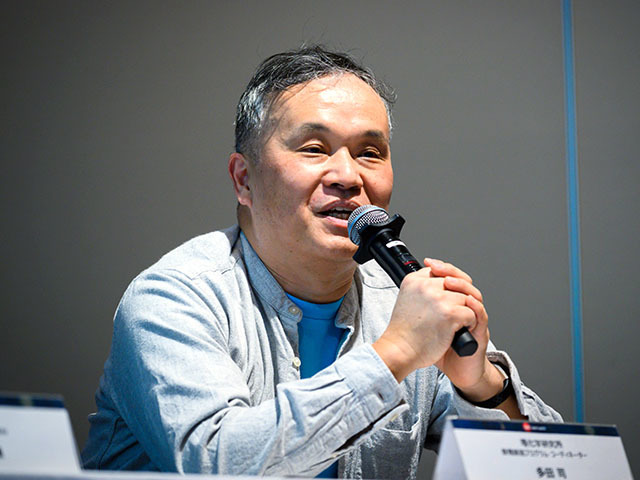 Tsukasa Tada of RIKEN Mathematical Science Creation Program [iTHEMS]
THEThe organization that iTHEMS considers is a "crucible-type" that creates diverse human resources on one platform and creates from 0 to 1 with a long-term perspective. Mr. Tada believes that such human resources should be in both academia and companies, and aims to create a soil where people can freely come and go in both directions.
ほ し い Based on the activities of these two people, I would like you to understand the pattern of the discussion.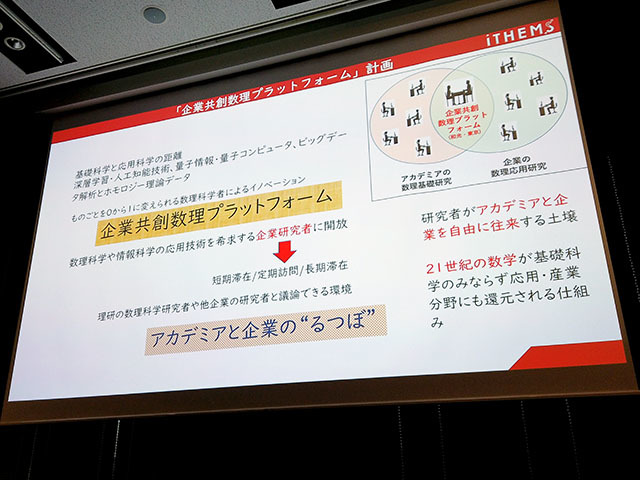 "Co-creation Mathematical Platform" plan
Source link