IT Lifehack
The first shot of Reiwa 2nd year (child year) is the anime "Himoto! Umaru-chan"! Free broadcast on Nico Nico Live Broadcast from 1:30 AM on New Year's Day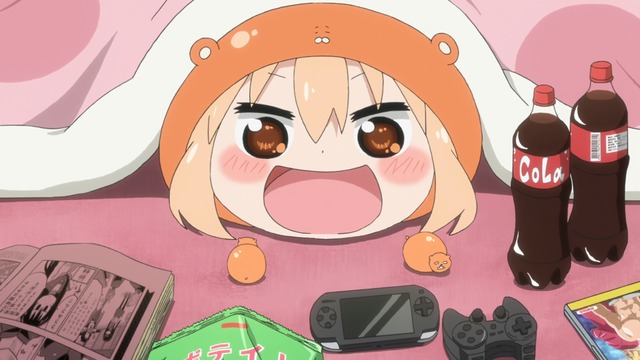 The animation information site "N Anime" of the video service "niconico" will broadcast a total of 12 episodes of the anime "Himoto! Enter the kotatsu at the beginning of the new year, and spend some time in Gutara in paradise, with coke and potatoes in one hand.

■ Introduction
A beautiful figure, excellent grades, universal sports, and a perfect schoolgirl that everybody longs for.
However, when she returns home, she becomes a dried fish sister, "dried younger sister!"
Manga, anime, games, internet, cola, potatoes …
Spend the supreme Gutara time [time] surrounded by what you like.
Only the older brother, Taihei, who lives with him knows such a figure.
In addition to Taihei, weaving with classmates Ebina, Kirie and Sylphins, the strongest and best everyday [paradise] of Umaru begins!
■ Delivery schedule
"Himoto! Umaru-chan" All 12 episodes broadcast at once
Wednesday, January 1, 2020 1:30 start
https://live.nicovideo.jp/watch/lv323492553

■New Year's Holiday Nico Nico Live Broadcast Animation One Lineup
■Articles related to cultureI Read
・Very active in the event of a disaster in addition to the outdoors! A compact "ZEEPIN portable power supply" with a capacity of 60,900mAh that can be purchased at the 20,000 yen level and supports 6 simultaneous charging and PD fast charging
・During the year-end and New Year holidays, heroes and squadrons are excited! Free live broadcast of special effects such as "Kamen Rider Den-O", "Samurai Sentai Shinkenger", "Battle Fever J" at Nico Nico
・Reiwa first held! " Ruby biz Grand prix 2019 '' to commend those who created new value by making good use of the Japanese programming language " Ruby ''
・Unlimited play of 500 titles! Beta version service of "GeForce NOW Powered by SoftBank" started!
・Mitsubishi Motors x Tsutaya Appliances! Propose a lifestyle "Electric CAMP" that introduces home appliances to the outdoors and enjoys luxurious camping