IT Lifehack
The interior light type air purifier " puripot L1 '' which looks like a light and is actually an air purifier, pre-sale at Makuake
HRJ has commenced pre-sales of the "Puripot L1" interior light air purifier at the crowdfunding site Makuake.

"Puripot L1" does not use general filters that are changed regularly. It decomposes pollen, viruses, bacteria, and substances that cause odor using the photocatalytic function to detoxify it.
No matter how high-performance a general filter is, it only adsorbs pollen and the like, but cannot decompose and detoxify it. If maintenance is neglected, harmful substances accumulated in the filter may be released to the room. If care is not taken when changing the filters, the adsorbed harmful substances will diffuse into the room.
"Puripot L1" can decompose and remove harmful substances by photocatalytic function. Since the structure is fundamentally different from that of an air purifier that adsorbs harmful substances to a filter, it can be safely placed in a room.
The interior light itself is also distinctive. In addition to the light function, the air purifier and the light can be operated separately.
Light is economical with LED. Long life design that can be used for more than 10 years even when illuminated by light for 8 hours a day. The light is a daylight color close to natural light with a maximum of 100 lux, and the light intensity can be adjusted in 5 steps. It can also be used as a desk lamp in offices that require bright light, or as a mood lamp to create a dining table with faint light.
■ Product specifications
LED light mode: 5 stages
Air purifier mode: 12 steps in total
Size: 390 × 210mm
Weight: 1.5kg
Air purification range: about 15㎡
Operating temperature: -10 to 60 ° C
Operating humidity: 90% RH
Power consumption: 10W
Power supply: DC12V / 1.5A
A country of origin: Korea (body), China (adapter)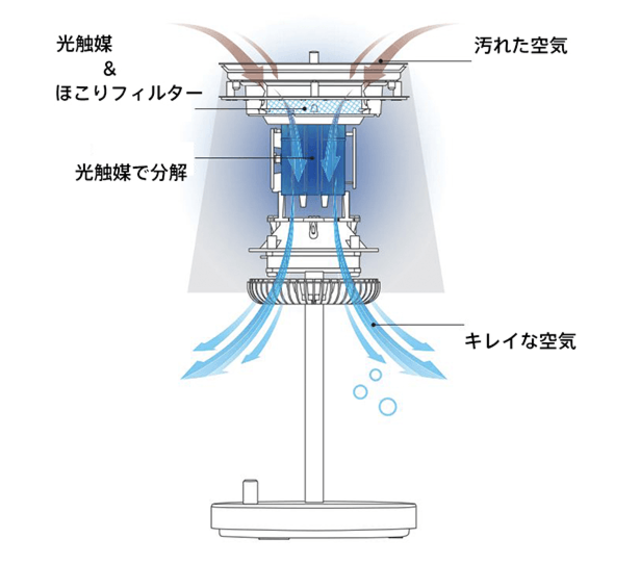 ■Articles related to digital home appliancesI Read
・Nintendo Switch exclusive grip " 5in1 gripper '' that can store Switch game cards and realize comfortable operation
・Completely wireless headphones " WF-H800 '' that allows you to enjoy music and videos of streaming services from Sony with high sound quality equivalent to high resolution
・After checking the air pressure, a rechargeable electric air compressor " handy air pump mini 2 '' that allows air to be injected into the tire with one button
・With this, you can transport water bottles easily and efficiently! Sanko's " 4 bottle server attachment for stair trolley ''
・A product that allows you to reconfirm the value of analog records! All-in-one music system "Premier LP" with built-in stereo speakers from ION Audio