Technology
" The new coronavirus is not as infectious as influenza, '' said WHO Secretary-General, urging countries to find early detection of infected people important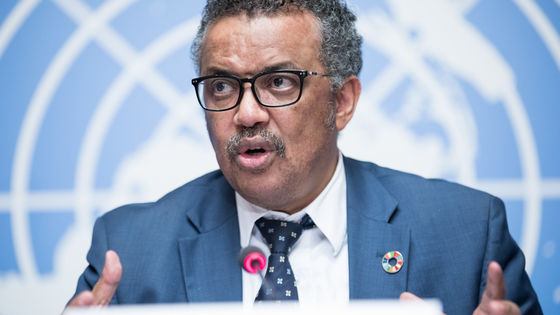 " The new coronavirus is not as infectious as influenza, '' said WHO Secretary-General, urging countries to find early detection of infected people important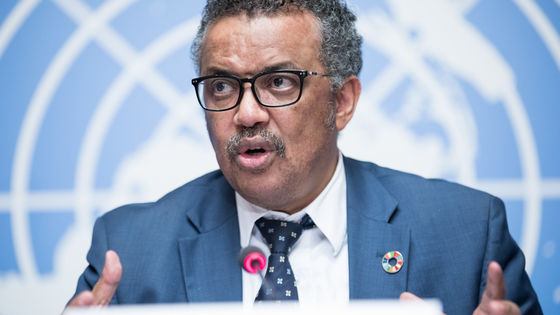 by UN Geneva
At the opening remarks of the media briefing held on March 3, 2020, the World Health Organization (WHO)Tedros AdanomThe Secretary-General said,New coronavirus infection(COVID-19) is not as contagious as influenza"
WHO Director-General's opening remarks at the media briefing on COVID-19-3 March 2020
https://www.who.int/dg/speeches/detail/who-director-general-s-opening-remarks-at-the-media-briefing-on-covid-19—3-march-2020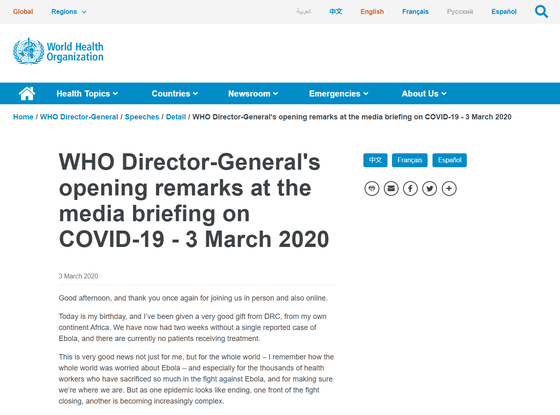 At the beginning of the briefing session, Secretary-General Adanom said, "Today is my birthday,Ebola hemorrhagic feverThere was a good news present that there was no case report for two weeks. " "To date, 9893 cases of COVID-19 have been reported worldwide, with 3110 deaths. In the past 24 hours, China has reported 129 cases, Outside China, 48 countries reported 1848 cases in 24 hours, with 80% of these reports coming from just three countries in Korea, Iran and Italy, and 12 Countries have newly reported cases. "
"Depending on the response of each newly identified country, the situation will change, depending on the response of each country, whether the number of infected people will be small or the number will increase explosively," said Adanom. Mentions what is known about the new coronavirus, as understanding the new coronavirus is the only way to counter people's fears.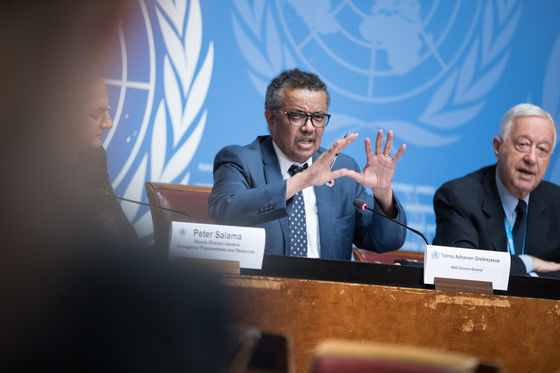 by UN Geneva
"COVID-19 isSARS,MERS, And is caused by a unique virus with unique properties that are different from the flu. Both COVID-19 and influenza cause respiratory illness, from infected peopleSpray infectionIt is common in that it spreads out, "said Adanom, who continued," However,COVID-19 and flu have different points"And pointed out the differences between COVID-19 and influenza.
"The first difference is that historical data has shown that COVID-19 is not as contagious as influenza. Influenza is a major source of infection in people who are" infected but have no symptoms ". As a cause, COVID-19 is the main cause of infection in people who already have symptoms.According to a study from China, only 1% of all cases were asymptomatic, and most cases It has developed within two days, "said Adanom, explaining that it is important to find infected people who are already symptomatic. "The second difference between COVID-19 and influenza is that many people are immune to influenza, but none of COVID-19 is immune," Adanom said. He argued that the high mortality rate of COVID-19 at 3.4%, while the flu fatality rate was well below 1%, was also associated with immunity problems.
"The third difference is that influenza has vaccines and therapeutics, but not COVID-19," said Adanom. At this stage, he said that clinical trials for COVID-19 are ongoing and that more than 20 vaccines have been developed. "The fourth difference is that seasonal flu cannot be contained, but COVID-19 can be contained," Adanom said. States argued that countries needed to track COVID-19 transmission to prevent transmission.
Mr. Adanom also said that masks caused by growing demand and misinformationBuy-outHe pointed out that the price of medical masks, goggles, and medical gloves required for healthcare professionals is rising, and expressed concern about the impaired capacity of each country to respond.
Copy the title and URL of this article
Source link