IT Lifehack
The smartphone game "Toaru IF" realizes an unprecedented vending machine with the power of science! What a "kicking vending machine"!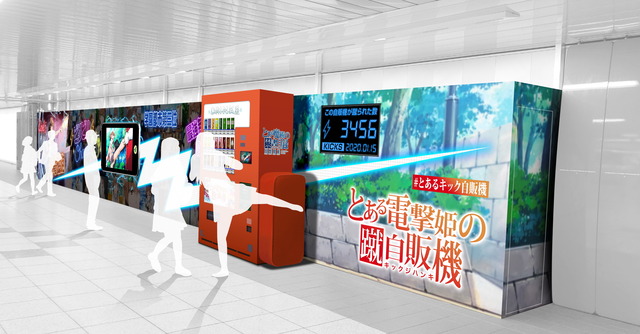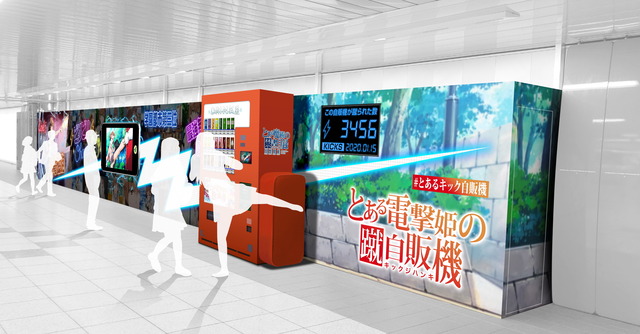 Square Enix is ​​launching a special event for the smartphone-based RPG game "Toaru Majutsu no Index, Imaginary Fest" from January 20, 2020 (Monday). (# With a kick vending machine) "at the Tokyo Metro Marunouchi Line Shinjuku Station Metro Promenade.

■ Accho! Vending machine to kick
"#Toru Kick Vending Machine" is a project that realistically reproduces the famous scene in the park where "Heroine Mikoto Misaka kicks a vending machine" familiar in the "Toaru" series. It has been installed for a limited time until January 26 (Sun). Why don't you try the industry's first "kicking vending machine" type attraction traffic advertisement?
Prior to traffic advertising, on January 14 (Tuesday), the mini-game content "# Toru Kick Vending Machine" that anyone can participate on the campaign site was released. By tapping the kick button displayed on the smartphone screen in a rhythmic manner, Mikoto Misaka drawn with dots kicks the vending machine with an exhilarating action and aims for the high score of the number of drink cans available It is. With the mini-games on the campaign site, you can download limited wallpaper content when you clear the mission. Furthermore, by tweeting the mini game play results, a complete set of 12 original stickers will be presented to 100 people by lot.
In addition, during the campaign period, the number of kicks of vending machines by all campaign participants in three places in the "Imaginary Fest" app game and in the traffic advertising in Shinjuku on the special site on the special site Items that can be used during application game play are distributed to all players in the game according to the total value.
■Articles related to cultureI Read
・National tour information is also lifted! Fans are excited at the mini-live before the broadcast! "Mirai Bunka Village Kishi Yosuke's Startup" Live Broadcast Event Report
・The 4th new Tokyo Metro "Find my Tokyo." Commercial featuring Satomi Ishihara will feature "Kinshicho – a city where the world and Nippon can be more connected".
・I shouldn't have watched it … I'm sorry to release the movie "Looking for Yutaka Ozaki" If you are an au Smart Pass Premium member, you can listen to Yutaka Ozaki Playlist, where you can listen to songs in the movie
・Create art using aibo! "Aibo x graphic art competition" held at Sony Square Shibuya Project

・Very active in the event of a disaster in addition to the outdoors! A compact "ZEEPIN portable power supply" with a capacity of 60,900 mAh that can be purchased at the 20,000 yen level and supports 6 simultaneous charging and PD fast charging

Rina Sato
NBC Universal Entertainment Japan
2020-04-30
Motoi Fuyukawa
KADOKAWA
2019-10-10
Nobuhiko Okamoto
NBC Universal Entertainment Japan
2019-12-25