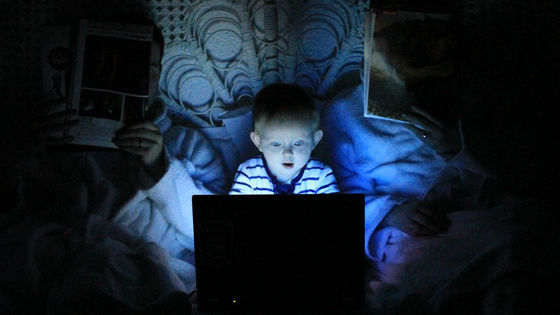 The topic that the software list distributed by government officials is " software list to watch if you are in a child's PC '' is too high level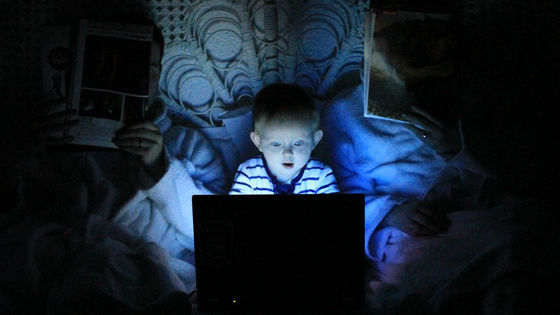 British government officials distributed to parents with children "Software list to watch if you are in your child's PCHas become a hot topic on the Internet because it is too high.
The topic of interest is Twitter users@G_IWThe following image tweeted by.
This utter crap is being distributed through schools from the 'local authority' so presume @WalsallCouncil today. The level of disinformation is staggering.I'd be proud to find my kids learning to use any of these.Except Discord but that's nothing to do with hacking. pic.twitter.com/9dvrmoPpOp

— GarethIllmann-Walker (@G_IW) February 12, 2020
Local government in Walsall, West Midlands, United KingdomWalsall CouncilBut it is one print that was distributed at school. At the bottom of the print are the "ROCU" and "NCA" logos. NCA is BritishNational Crime Control Agency, ROCU has organized police forces in regions such as Staffordshire, West Midlands, West Marcia and Warwickshire to fight organized crime throughout the region.West Midlands ROCU" In other words, the print was made by a British government agency and distributed via local government to schools where children go.
The title of the print is "Which is in the child's computer?" Web browsers that allow anonymous communicationTor BrowserAbout "the browser used to browse the dark web",Virtual machineabout"Kali LinuxCan hide the PC's OS in places that are not normally found, "Kali Linux's" OS used for hacking, "Wi-Fi PineappleAbout "a toolkit that can collect confidential computer information via the Internet", a chat system for gamersDiscordAbout "a communication platform that is frequently used to share hacking tips"MetasploitIs described as "a penetration tool that makes hacking simpler."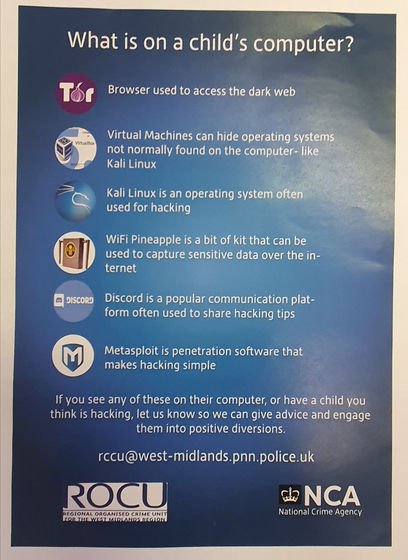 @G_IW, who uploaded a photo of this print on Twitter, states, "This complete junk was distributed to schools through the local government's Walsall Council. Too astounding: I'm proud that if I had one of these software on my child's PC, the child would have learned how to use it, except for Discord, because Discord Is software that has nothing to do with hacking. "
_G_IW's tweet has been retweeted about 3000 times and has collected over 8000 likes, but even more interesting comments are gathered in the reply section.
Kali Linux's official Twitter account states, "I need to admit that it's great to provide a roadmap to show children where to start. The easiest way to get kids to do something is Tell them you can't or shouldn't, and then post a list of things you shouldn't do.Kali Linux Online ManualWas not included in the list. "He tweeted, pointing out that the prints issued by NCA and ROCU make children more likely to be hacked.
Have to admit it's sort of nice they give kids a roadmap on where to get started.We all know the easiest way to get a kid to do something is to tell them they can't or should not, then they list specific item not to do. To bad they did not link to https://t.co/PsPfjHrXcr

— Kali Linux (@kalilinux) February 12, 2020
TwitterGC_and_Tech's Twitter account says, "I want to meet the 'Genius' who made this print. This print was created for something like 'Heavy Metal Creates Devil Followers' or 'Video Games Create Murder Devil' You must have thoughts, don't let ignorance deal with genres they don't understand! "
I want to meet the "genious" behind this leaflet.I bet this was written by one of those people who also believe that heavy metal will make you a satanist and video games a serial killer!
Do not let ignorant deal with topics they do not comprehend!#ignorance #cybersecurity

— Geek Culture & Tech (@GC_and_Tech) February 13, 2020
"Too ignorant. The skills in working with these software can help build a great career in information security. If I find these softwares on my child's computer, they will help my child It's even better for parents than to find out where their children are using illegal drugs. Learning about information security is great! "
Ignorance.This could lead to a very well paying career in infosec.I would support my kid if I found this on their computer.Better help parents find out if kids are doing DRUGS.DRUGS are bad, learning infosec is fine !!

— Lukas Rox (@rox_lukas) February 13, 2020
TheDarkTrancer expressed in other examples how out of print the content was: "gasoline: used for arson, mobile phone: used for terrorist activities, electricity: used for torture".
-Petrol: Used for arson
-Mobile Phone: Used for Terrorist activitys
-Electricity: Used to torture

— TheDarkTrancer (@TheDarkTrancer) February 13, 2020
"Rather than learning about hacking,Dungeons & DragonsIt's more likely that you're using Discord for that. "
There's a greater chance your kid is using discord to play D & D than learn to hack.

— Individualist President (@AncapPresident) February 13, 2020
"What a shame, all of these tools are for legitimate uses. For example, virtual machines are a great way for children to learn about Linux (including Kali Linux) and prepare for the high-paid career in computer engineering. It's such a ridiculous ignorance and terrible point! "
Such an embarrassment. Those are all tools for various legitimate uses.VMs, for example, are how your kids can learn about Linux (Kali, too) to prepare themselves for a high-paying career in computer engineering.Such ludditish ignorance and fearmongering!

— R̷o̷b̷o̷t̷ ̷T̷e̷r̷r̷o̷r̷ (@robotterror) February 13, 2020
"After Brexit, the UK seems to be looking for enemies above the EU. The UK / Tor & Linux & virtual machine UK / Infinity War will soon begin."
After the #Brexit, it seems like the UK is looking for more enemies than the EU.

Soon, "UK vs. #Tor, #Linux, #VirtualBox -UK Infinity War ".

— EdParadox (@EdParadox) February 13, 2020
"If you are smart enough to use such software, you should be able to change the icon and hide the software."
If a kid is smart enough to be using these, then they will also be smart enough to change the display symbol and also hide the program.

— Katie West; Lady of the Empire (@katiewests) February 13, 2020
"I watched several hours of" hacking tutorial "videos on YouTube, as if they were comprehended by someone who came to know what they were. Do some serious research or hire a consultant. Should be. "
This looks like it was put together by someone who spent a few hours watching "hacking tutorials" on YouTube and has no real understanding of what any of those things are or how they work.

Seriously, @WalsallCouncil do some actual research or hire a consultant.

— Cuda ???? null (@cudatox) February 13, 2020
Please note that at the end of the print, "If you have these software on your child's computer or if you feel your child is hacked, please contact us. We will help your child on the right path." Have been.
Copy the title and URL of this article