Headline
Tohoku Univ., blackness and electrical resistance of the compatibility of the ceramics thin films development of design with the touch panel to realize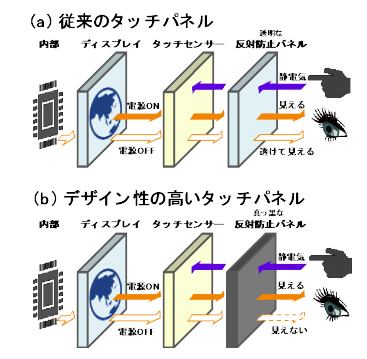 Smartphones and tablets used in the touch panel. Design enhance the anti-reflective panel to the optical blackness and high electrical resistance is required, the balance was difficult. Tohoku University is 3 days, these 2 both allow for the ceramic thin film to be completed.
【Here】The organic storage battery of the practical"conductive relay mechanism"devised, Tohoku Univ.
■High-quality design for touch panel
IoT progress, by the IH cooking heaters and Automobile Instrument Panel, such as touch panel applications are expanding. The touch panel of the outermost constituting the anti-reflective panel,that are highly sought after for their design, the conventional is transparent, therefore, when the power is off the external light by the reflection by the inside through the problem that there was.
To prevent this, anti-reflection panel and the optical black is required. The touch panel is a finger contact to the location where static electricity, in particular for anti-reflection panel electric insulation properties are required. However, the black material common to the electrical conductivity, for 2 about the nature of both was difficult.
■Carbon blacker than the electrical resistance of the metal 100 times
Tohoku University and Nippon Electric Glass researchers from the group of ceramics, thin-film light-absorbing characteristics has been surveyed. As a result, silver and iron oxide complex composed of carbon or more to visible light, absorbing a typical metal of about 100 million times the electrical resistance that were discovered.
At the atomic level, the metal is a ceramic dispersed in the why and the research group is considered. Metal and ceramic are to be separated is insufficient at a temperature synthesized by high electrical resistance can be realized and.
The research group,optical blackness and high electrical resistance that combines anti-reflection panel on the commercialization of 1 to 2 years from the expected. This material is a liquid crystal display of color display used in the movie and Game, etc., in which is used a lot for the dark color of the display is beautiful and is expected to do.
Details of the study, the international journal physica status solidi [RRL] – Rapid Research Letters on 2 dates that have been posted. [Article: Kadono 未智・The article list to look at]
Source link