Headline
Tokyo Metro to install CocoDesk, a private workspace in the station premises
Tokyo Subway [Tokyo Metro] announced on February 6 that it will start providing a private workspace "CocoDesk" on February 20 at Tokyo Metro Station premises in collaboration with Fuji Xerox.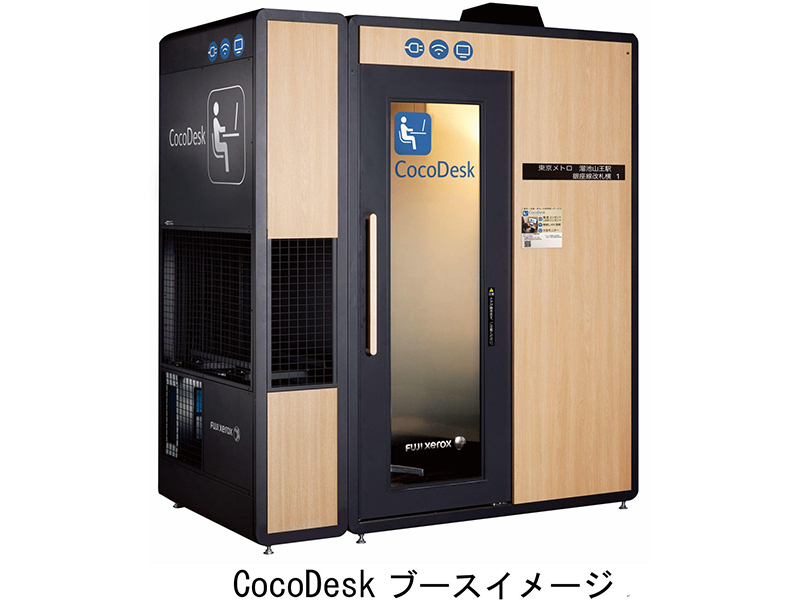 CocoDesk
Available time is from 7:00 to 22:00. The usage fee is 250 yen [excluding tax] per 15 minutes, and payment is only by credit card. To use the service, it is necessary to make an advance reservation on the dedicated website after registering as a member.
The company has been working with Fuji Xerox to develop and test personal workspaces in order to meet the demand for mobile work from offices such as telework.
This time, after verification in a demonstration experiment, the facility was upgraded to a more comfortable and convenient facility, and a formal service was started as a private workspace "CocoDesk" in the station premises.
CoIn addition, "CocoDesk" secures enough space for comfortable use based on verification tests, and is fully equipped with outlets [power supply, USB] and Wi-Fi necessary for using mobile terminals. Temperature control by air conditioner is also possible.
For installation locations, Tameike-Sanno Station on the Ginza and Namboku Lines [3], Meiji-Jingumae Station on the Chiyoda Line and Fukutoshin Line [2], Ikebukuro Station on the Yurakucho Line [1], and Roppongi 1-Chome on the Namboku Line It will start at four stations [one station] and will be installed at a total of ten stations by the end of March 2020. In the future, the company plans to expand installation at other stations.
Source link