IT Lifehack
Unlimited use of doCoMo line data communication! "Excite Mobile WiFi" for 3,580 yen per month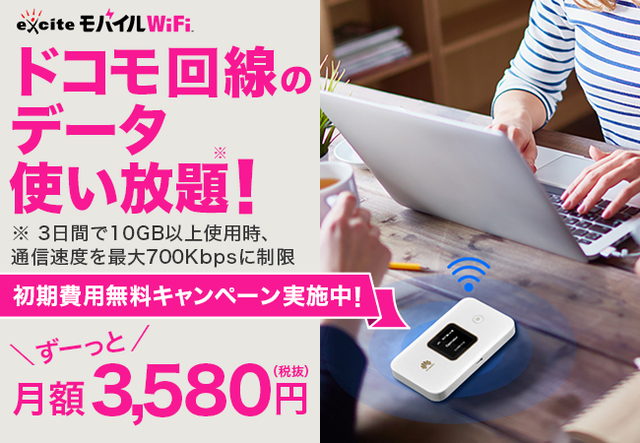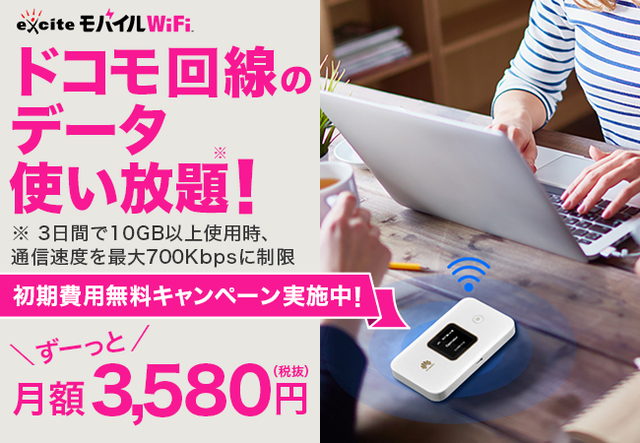 Excite Japan Co., Ltd. will start offering the mobile WiFi service "Excite Mobile WiFi" for 3,580 yen [tax excluded] per month on the broadband service "BB.excite" from October 1, 2020 [application acceptance is accepted]. Started on September 14, 2020].

■ Four features of Excite Mobile WiFi
This product allows you to use the data communication of the docomo line [physical SIM] as much as you want [when using 10GB or more in 3 days, the communication speed is limited to 700kbps at maximum], and you can enjoy high-speed Internet at home or on the go. In addition, to commemorate the start of the service, we will carry out a campaign in which the initial cost [3,400 yen / tax excluded] will be free.
[1] All-you-can-use data * for a long time, 3,580 yen per month [excluding tax]
Excite Mobile WiFi is a simple and easy-to-understand "all-you-can-use data communication" plan. The monthly fee does not change on the way. It's cheaper than installing an optical line, you can start using it immediately without any construction work, and you can carry it with you when you go out.
* When using 10GB or more in 3 days, the communication speed is limited to 700kbps at maximum.
[2] DoCoMo line [physical SIM] is strong against communication areas, high floors, and obstacles
Excite Mobile WiFi uses a SIM [physical SIM / maximum downlink 612 Mbps] dedicated to data communication on DoCoMo lines. Since the communication area is wide and it is easy to connect even on the upper floors of the building, you can connect to the Internet anytime and anywhere.
[3] Unlimited use at a maximum of 700kbps even when speed is limited!
Excite Mobile WiFi allows unlimited use of data communication at up to 700kbps even when speed is limited.
It can be used smoothly for standard-definition video and streaming viewing, online meetings, etc. There is no additional charge because it is a function attached to the service, not a paid option.
* For the purpose of improving the display speed, etc., optimization of communication [compression within the range that does not spoil the appearance of images, etc., control the transmission pace of traffic related to specific applications, port numbers, specific applications, ports, etc. Control the band related to the number] may be performed. Optimized images and the like cannot be restored.
[4] Charge for the terminal compensation service!
Excite Mobile WiFi includes a terminal compensation service that covers a wide range of things such as getting wet, cracking the screen, total loss, and partial damage in the monthly fee. In addition, the manufacturer's warranty also covers failures due to self-damage and water wetting, which are often not covered. In the case of our company [excite mobile terminal compensation], the monthly fee is 500 yen, so you can save one coin every month.
■Articles related to personal computersI Read
・Tokyo 03 Akihiro Kakuta dives at a remote conference! ?? New CM for "Meeting Oulu Pro" webcam for conference rooms
・Change the cover to suit your mood! Sanwa Supply "Flat-shaped rechargeable mouse"
・High-speed communication is possible even with telework! Planex releases USB Type-C wired LAN adapter that can be used on Mac
・Released RAYWOOD "TSUKISHIRO", a pen tablet for 6,980 yen
・Mad Catz "EGO Arcade Fight Stick" is back! New release of game pad and limited high-end gaming mouse