Motor
US Special Nissan, which was sponsored for the Long Beach Grand Prix 77 in California, as an official pace car, the 77-year model Datsun 280Z The Special Decora Package 1
Awakening yellow body, full stripe decals. And a large 5-mile bumper that makes the unique identity of the S30Z indigenous to the US feel more than the left steering wheel.
Two reimported cars of the Datsun 280Z, a Japanese sports car loved around the world, the S30Z North American specification character. Wearing the color NO411 Sunburst Yellow, the matching specifications are full original from the time of the new car. Both are manufactured in the spring of 1977 and have an accurate history of being sold at different dealers in Southern California.
Over the sea, these unrestored vehicles, comparable to the S30Z trivia, were produced as an official pace car by Nissan, the US sponsor of the Long Beach Grand Prix 77 in California.
Later, this specification became the foundation for producing a short-term Sunburst Yellow genuine color of the second half model of 1977 as a tribute, and at the same time, a clone version option called "The Special Decora Package" limited to local Southern California dealers The specification was released only at the same time.
Actually, this photo car was finished in the race and displayed in the dealer's showroom as a sample vehicle.

The red turn signal lens is a full-fledged North American S30 series. The bumper guard on the front is made by AMCO of Datsun Accesories.

Dedicated stripe is a decal but in good condition. The louver that relieves direct sunlight can be opened and closed with a pin on the side.

The 77 model standard is a wheel cover, which is also set for the final in Japan. The shooting vehicle wears North American option 14 inch aluminum. The tire is flat in the US DL P195 / 70.

Only the driver's seat is standard for the door mirror. Adopted a dual mirror with a dedicated Racing Mirror. Side Protect Mall is a classic in North America at the time.

The 280Z behind the COSTA MESA DATSUN display car is equipped with the only automatic and rocker panel molding.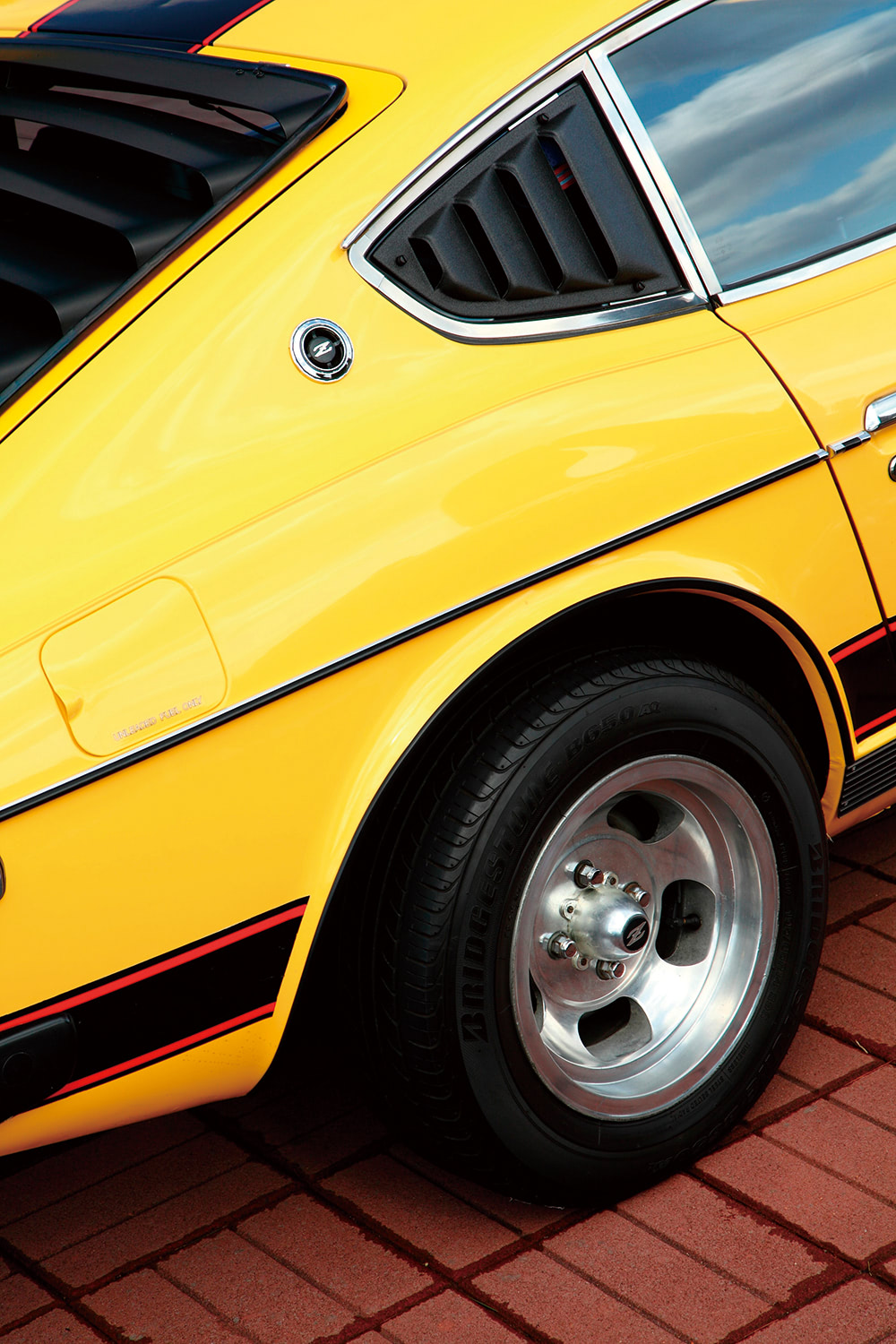 The dish wheel called "SLOT MAG" is an optional part. Parts with side window louvers from that time. Fender Arch Mall has the local name for wheel lip molding.
Posted: Nostalgic Hero April 2011 issue vol.144 [All information in the article is current at the time of publication]
Source link