Andorid
Walkman, Xperia, VAIO also PlayStation-Web gallery that traces the history of Sony design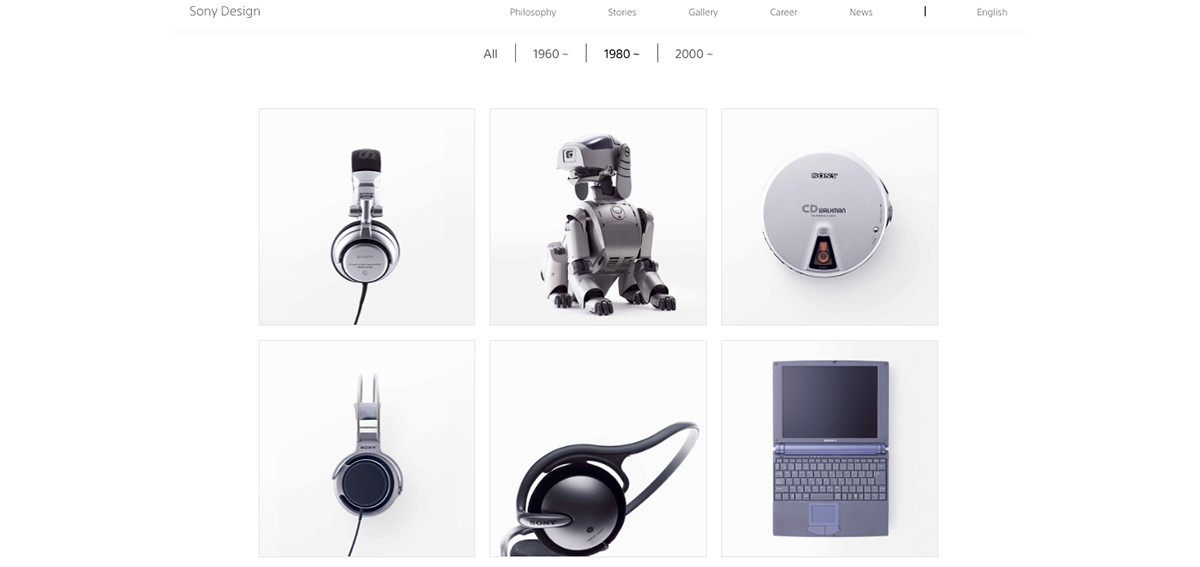 Sony renewed the gallery page of its website "Sony Design" on May 21st. Home AV equipment such as Walkman and BRAVIA, product designs of Xperia, VAIO, Cybershot / α series digital cameras, PlayStation, AIBO, etc. are introduced in the photos.
The gallery page is organized into three corners every 20 years from the 1960s to the 1980s to the 2000s.
In the corner of the 1960s, there was a radio called TMF-110D (1966), which was nicknamed "Solid State 11", and the first "ICF-5500" (1972) of the "Sky Sensor" series. Appeared. The Trinitron color television "KV-1375" (1977), named after the name of the jet aircraft, is also featured in this corner.
In the 1980s corner, the first outdoor walkman "WM-F5" (1983) that adopted a unique yellow color that is a standard color of sports models, a portable CD player nicknamed "Diskman" " Introducing "D-J50" (1991), headphones "MDR-G61", which features a neckband design with the headband placed behind the neck.
In this corner, it appeared as the first compact digital camera / Cybershot, the DSC-F1 (1996) in which the lens and flash rotate 180 degrees, and the first notebook VAIO PCG-505 that adopted a blue-violet metallic color. (1997), the home entertainment robot AIBO's first model "ERS-110" (1999), which features a lovely appearance like a beagle dog, has also appeared. It can be seen that the range of Sony product categories has expanded significantly.
Entering the corner of the 2000s, the home-use game console "PlayStation 2 SCPH-90000 Series" (2000) helped popularize DVDs, and the Walkman "NW HDD-equipped with a large organic EL display with a curved design body. -Designs of relatively new and familiar Sony products such as "A1000" and 4K LCD TV "BRAVIA KD-65X9000B" (2014) that adopted a wedge-shaped wedge design. The Xperia brand smartphone "Xperia Z1" (2013) and the tablet "Xperia Tablet Z" (2013) are also in this section.
In addition, the lens-type digital camera "DSC-" reminiscent of a lens for a single-lens reflex camera, including the interchangeable lens digital camera "α7" (2013), which opened up a new category of "compact full-size mirrorless interchangeable-lens camera". Sony's unique camera products such as the " QX100 '' (2013), the Sinvar (the color of the mineral called cinnabar, which is close to vermilion), and the Carl Zeiss A-mount lens series (2006-2009) are also included. Has been.
Source link