Technology
" We saved 421 lives in a year using artificial satellites, '' the U.S. Marine and Atmospheric Administration officially announced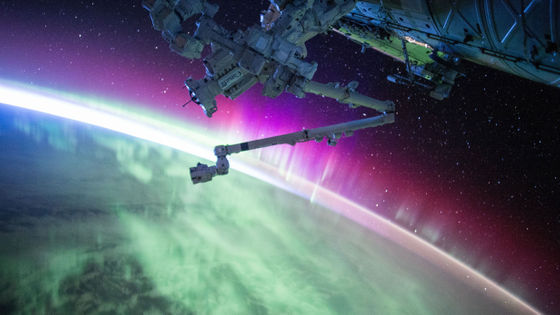 " We saved 421 lives in a year using artificial satellites, '' the U.S. Marine and Atmospheric Administration officially announced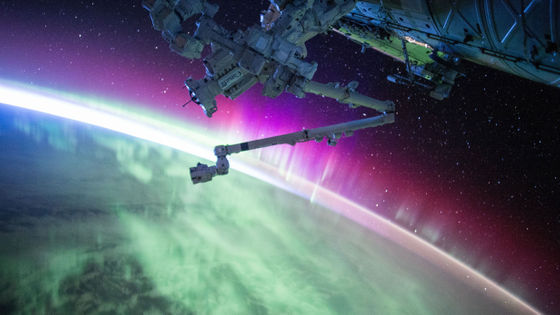 By NASA
" In fiscal 2019, we rescued 421 people using polar orbiting satellites and geostationary satellites, ''U.S. Marine and Atmospheric Administration(NOAA)Has officially announced.
NOAA satellites helped save a record 421 lives in 2019 | National Oceanic and Atmospheric Administration
https://www.noaa.gov/media-release/noaa-satellites-helped-save-record-421-lives-in-2019
NOAA is the weather on earthSpace weatherA large number of satellites to understand trendsOperationHowever, at the same time, we use satellites to "support rescue operations." Upon receiving a signal from the rescuer, NOAA's satellites immediately identify location information. The information was relayed to NOAA's Satellite Operations Center in Maryland,Rescue coordination centerWill be sent to Based on the traffic light, the Rescue Coordination Center will forward the rescue request from the Air Force, Army, and Coast Guard to any other department that is deemed suitable for rescue.
Operating in the United States, the system is called "SARSAT" and since its launch in 1982 has helped 9000 rescue operations in and around the United States.
NOAA-Search and Rescue Satellite Aided Tracking-Welcome
https://www.sarsat.noaa.gov/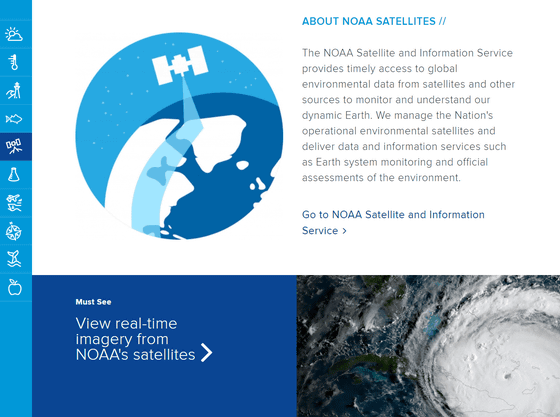 In FY2019, a total of 421 people were rescued by SARSAT, including 306 people from marine accidents, 77 people from mountain accidents, and 38 people from airplane accidents. This rescue rate is a significant break from the record of 353 people in 2007, the highest ever recorded.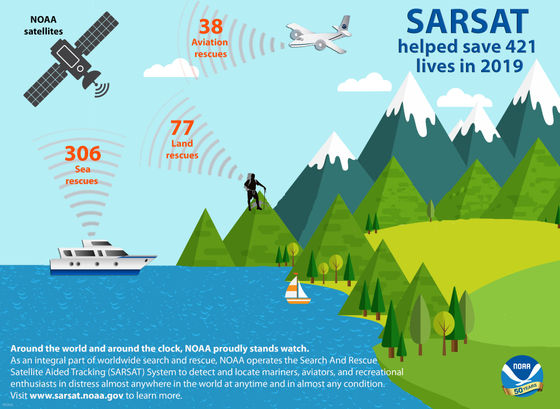 In addition to operating SARSAT in Japan, NOAA is an international rescue program jointly conducted with Canada, France, the former Soviet Union and other countries.COSPAS-SARSATAnd satellite information. According to the announcement, the total number of rescue operations supported overseas is over 48,000.
Due to legal requirements, personally owned beacons must be registered with the NOAA to receive SARSAT rescue in the United States. This registration is possible using the following online form.
NOAA-Search and Rescue Satellite Aided Tracking-Register Your Beacon
https://www.sarsat.noaa.gov/beacon.html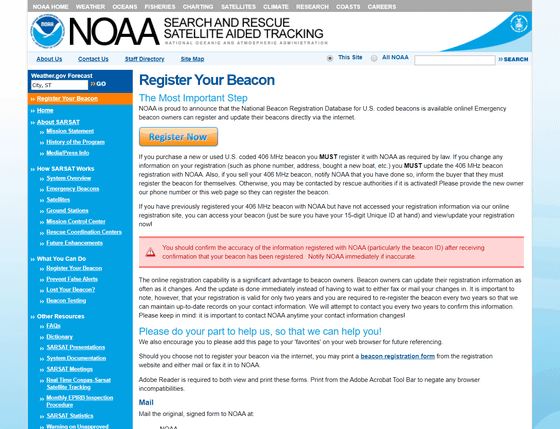 NOAA says, "Registration will provide fast and accurate rescue, prevent false alarms, and provide you with information about the location of an emergency and the assistance you need." I'm calling.
Copy the title and URL of this article
Source link