Digital Camera
Web conferencing with "SIGMA fp", how to select better lenses and how to compose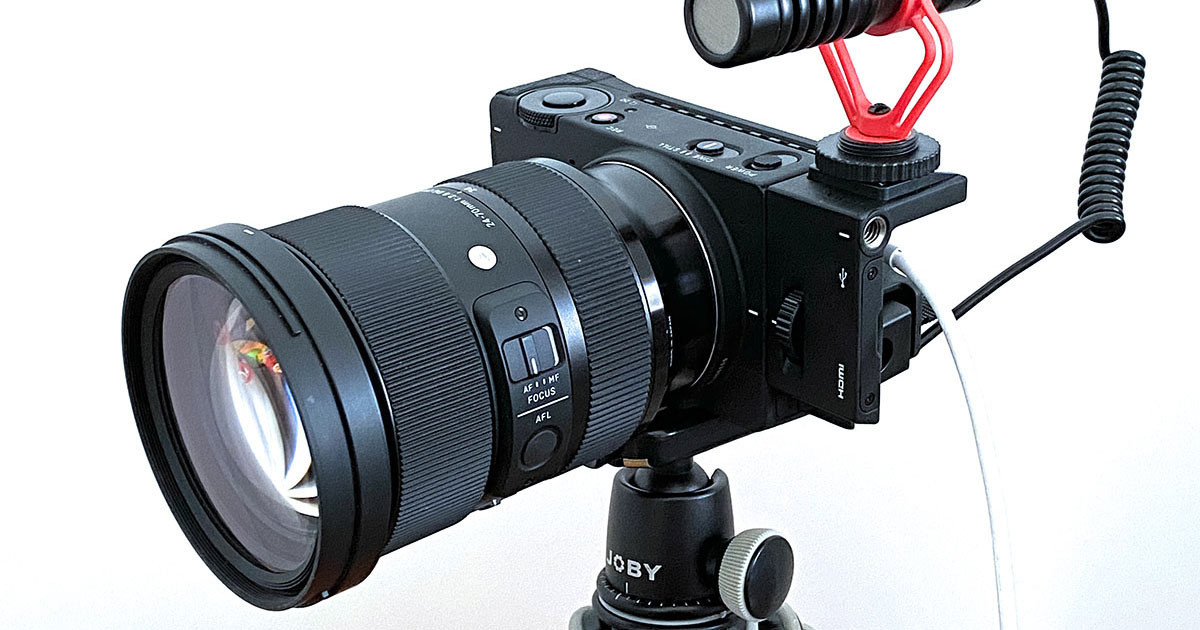 Since the emergency declaration was issued in Tokyo, etc., I live in Tokyo and spend most of my time within walking distance. Of course, I'm not just doing anything, I take a lot of pictures of my neighborhood while going to the park with my son and doing daily shopping.
The camera I often bring out at that time is SIGMA's SIGMA fp. The reason I like it is that it's simply small, but it often shows up, but these days I've been seeing the story "fp becomes a webcam!" On the Internet.
I also have a Zoom meeting during the day and an online drinking party with my friends at night. I'm using an iPhone and iPad there, but I tried to figure out what kind of lens to use and what kind of expression to use in order to catch the wave of the trend, and how to devise the composition and exposure.
"35mm F1.2 DG DN" is expensive, but I want to try it
First, select an interchangeable lens to use. I think most fp users use the kit lens "45mm F2.8 DG DN". It's a compact, lightweight lens that captures well, but it's also more than adequate for webcam applications.
The 45mm F2.8 DG DN can be used without any dissatisfaction with the basics, but depending on the situation you may find it slightly telephoto. I feel that using a lens with a slightly wider angle will make it more practical.
I'm not very familiar with webcams, but it seems that commercially available products have a wide-angle lens of approximately 18-24mm. With that in mind, it seems that the "14-24mm F2.8 DG DN" is easy to use, but if you want to fully demonstrate the high image quality of fp, then you cannot remove the "35mm F1.2 DG DN". Although it is heavy and expensive to buy for a web camera, it is a lens that can show great images even in normal shooting, so if you are an fp user you will not buy it.
Techniques for not showing cluttered background
The fp is equipped with a full-size sensor, and with the 35mmF1.2 DG DN at the top, you can get big blur with any lens. There is a technique to blur the messy part of the room, but even if it is blurred, the atmosphere inside the room can be understood. After all, choosing the background is important.
I think that many people are backing against the wall in online meetings, but if you use fp with a lot of effort, you may want to choose a background with voids and depth. At that time, even if you change the angle a little, the background may be displayed so clearly that you can not think of it as the same room. Let's try from various angles, such as using an ordinary tripod. The point is to hide the messy part with your own body.
If you install the camera so that it looks down from a high position, the floor will be easier to see. My family has a son who is one and a half years old, and the floor is always rough, so looking up from a low position made it look neat.
Use exposure compensation positively
The light condition is also important. It is recommended that you use "semi-backlight," where the light shines from the side of your face, as it will give a three-dimensional expression to both men and women. Aiming at the effect of the reflex board, you can also lean a large white paper on the shadow side. Placing a piece of white paper at your fingertips will soften the chin line, making it more youthful and easy to project.
If you set the camera to automatic exposure such as aperture-priority auto, the face tends to be dark due to external light. So let's use exposure compensation. If the backlight is adjusted to +1 to 1.3 and the semi-backlight is adjusted to +0.7 to 1, the expression should be bright and lively.
By the way, if you connect fp to a computer, you cannot change the settings, so set it in advance. To operate the camera when connecting to a computer, you need to disconnect the USB cable, but if you set "Dial exposure operation" to "On" (the default setting is "Off") in the CINE menu, the cable will It is convenient because you can set it with the sub dial if you leave it. When it is set to "Off", selecting "Exposure compensation" from "Exposure setting" in the menu will be quite difficult.
May be very useful in business
Although fp is monopolizing the topic of mirrorless cameras as webcams, on April 28, Canon's American corporation urgently released a Windows application that can convert most EOS DIGITALs into webcams.
High image quality is not always required for online meetings and online drinking parties, and rather low image quality may be preferred, such as "to keep the face and room interiors inconspicuous." However, the specs and image quality of fp are such that they can be used for shooting commercial movies, and the "waste of specs" of using them for webcams is a good humor in this world.
In the future, online communication will take root in Japanese society, and there is a possibility that business meetings will require high-quality online meetings, business meetings, video distribution, and information dissemination. As a business skill, knowing how to do this can never be a loss.
Takashi Shikano
Source link