Technology
What's happening with big companies like Coca-Cola and Unilever have stopped putting ads on Facebook one after another?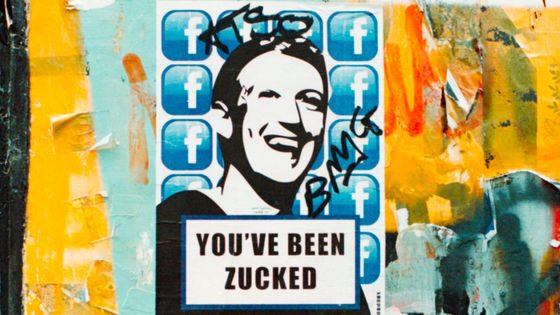 What's happening with big companies like Coca-Cola and Unilever have stopped putting ads on Facebook one after another?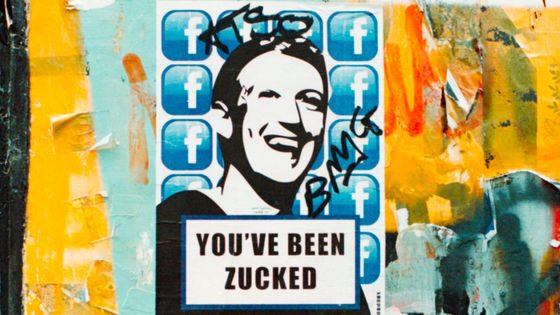 Manufactures and sells soft drinks such as Coca-ColaThe Coca-Cola CompanyIs one of the world's leading general consumer goods manufacturers that manufactures and sells household items such as food, detergent, hair care, and toiletries.UnileverIs a major US telecommunications operatorVerizonMajor companies such asStop Hate for Profit(Stop Hate for Profit: #StopHateforProfit)" As part of the campaign, we have announced that we will stop advertising on Facebook.
Coca-Cola joins Facebook boycott with a pause on all social media advertising starting July 1st-The Verge
https://www.theverge.com/2020/6/26/21305065/coca-cola-pause-ads-facebook-social-platforms-july-boycott
Unilever and Verizon are the latest companies to pull their advertising from Facebook | TechCrunch
https://techcrunch.com/2020/06/26/unilever-and-verizon-are-the-latest-brands-to-join-the-facebook-ad-boycott/
Of black men in AmericaGeorge FloydAccuses abolition of racism against blacks, triggered by the murder of a white police officerProtest demonstrationIs expanding. While the move to appeal for the elimination of racial discrimination accelerated, "#StopHateforProfit" was raised to protest the response taken by Facebook. Facebook has said that news sites that defend white people are "trustworthy news sources" and that media expressing support for blacks is a media that needs to be checked for facts, hate speeches on the platform and It has been criticized for lacking measures against racial discrimination.
"#StopHateforProfit" says, "99% of Facebook's $ 70 billion (about 7.5 trillion yen) revenue is generated by advertising. Who is the advertiser who supports such Facebook revenue? Send a strong message to Facebook. Your interests shouldn't promote hatred, prejudice, racism, anti-Semitism and violence." Advertise on Facebook We are asking companies that publish ads to stop serving ads on Facebook's platform.
"#StopHateforProfit" official website said, "We want all companies to join forces with the most deeply supported American values ​​of freedom, equality and justice, and not advertise on Facebook services in July. As a group that co-sponsors the project.National Black Association(NAACP) andMozillaAre listed.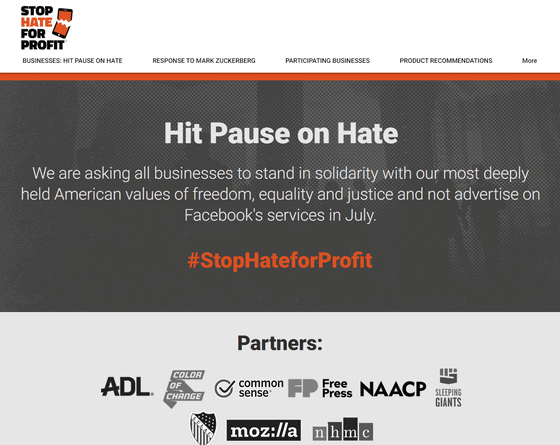 Several companies have already announced their participation in "#StopHateforProfit" and the Coca-Cola Company has also announced its participation in the campaign. However, The Coca-Cola Company has announced a step further than any other company and says it will stop advertising on all social media platforms, not just Facebook.
The Coca-Cola Company said, "The Coca-Cola Company will suspend paid advertising globally on all social media platforms for at least 30 days from 1st July. We would like to re-evaluate our advertising standards and policies and determine if any internal corrections are needed and what social media partners should do to remove hatred, violence and inappropriate content from the platform. We are telling our partners that we expect greater accountability, behavior and transparency."statementIs out.
A non-profit organization that is one of the organizers of "#StopHate for Profit"Color Of Change"Large companies, including Unilever and Verizon, have announced their participation in our campaign and are committed to discontinuing their ads on Facebook until at least the end of July," said Rashad Robinson of Yahoo! Since the announcement of "#StopHateforProfit", more than 100 companies have already announced that they will participate in the campaign.The Hershey CompanyHave also announced their participation.
One of the most recognizable global brands in the world is halting their @Facebook advertising. Coke's commitment to #StopHateForProfit, along with Unilever and Verizon just in the last 24 hours, is a warning sign for Facebook. https://t.co/AIYb4hReRi

— Rashad Robinson (@rashadrobinson) June 26, 2020
Other well-known companies participating in #StopHateforProfit include sportswearTHE NORTH FACEAnd outdoor brandsPatagoniaOf the ice cream brandBen & Jerry'sOf the movie distributorMagnolia picturesAnd so on.
Major brands boycott Facebook and Instagram ads at once-GIGAZINE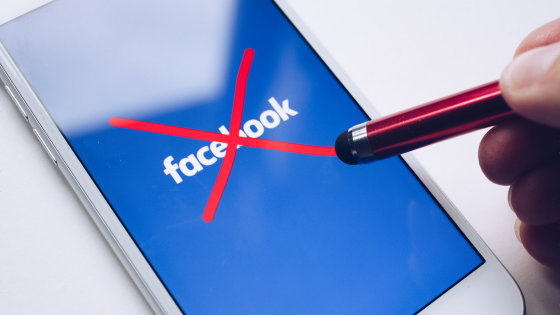 by Book Catalog
However, the overseas media The Verge said, "The Facebook protest campaign #StopHateforProfit spreads Facebook's bad reputation and may have some influence, but major advertisers stopped advertising for a month However, it does not affect most of the company's revenue."
Copy the title and URL of this article
Source link