Headline
Will "Avatar Fashion" Become a Business? –Talk from the perspective of apparel production and intellectual property
An online event that discusses whether to provide fashion to digital avatars or to connect with the fashion brand business.SOuDAN Online Talk #01 Will Avatar Fashion Become a Business?Was held in June.
Organized by Fashion Studies, which organizes study sessions on various events centered around fashion. Co-sponsored by ITOCHU Interactive. The panelists are Yoshita Hirata from MODEFACTORY LAB., Megumi Ohashi from Apparel Play Office, and Shinya Seki attorney at Shinya Seki. Yusuke Shinozaki of Fashion Studies served as a facilitator.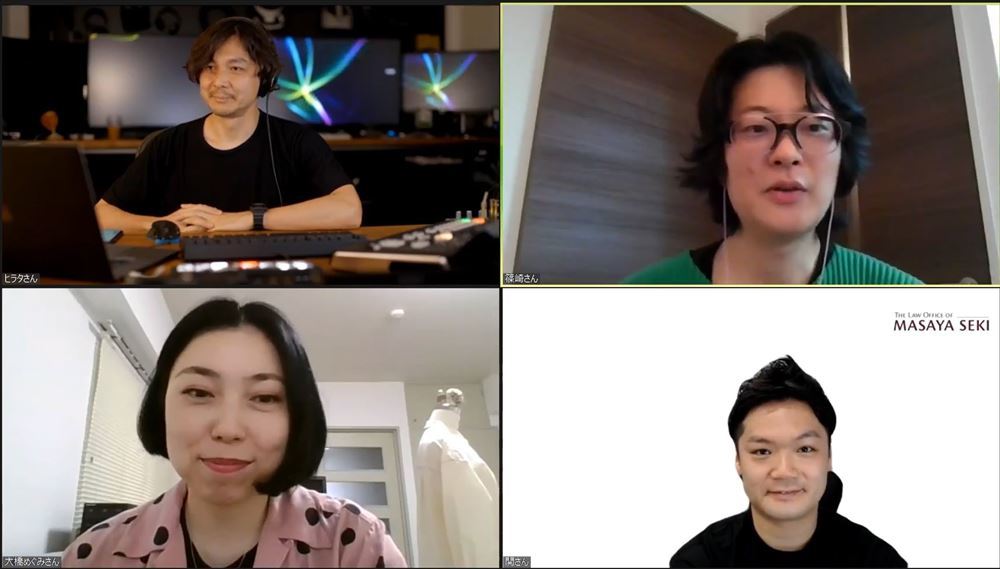 The future of avatar fashion
First, Mr. Hirata talked about the transition and future of avatar fashion, titled "The future of avatar fashion." While stay homes are being coerced around the world and people are looking for something to enjoy in a limited environment, it is being developed in the same game as the "Atsumori [Atsumori Animal Forest]" boom as a sign that online culture is being reviewed. The fashion brand measures were introduced. It is said that measures are being taken to intersect online and offline, such as distributing products that are being developed at physical stores and clothes announced at shows for avatars.
Continuing on, as a transition of Avatar before Atsumori, as his own research presentation about the Internet virtual space service "Second Life", which was noticed around the world about 10 years ago, and related "Metaverse" "Avatar" 2011 Introduces the presentation made at SIGGRAPH [CG International Conference at the American Computer Society].
In the same announcement, as a result of surveying avatars around the world, from the existence of adventuring on behalf of himself, such as Mario appearing in a video game, in accordance with the progress of technology, one's inner and hobby Reported that it has evolved into an entity that can reflect tastes. "I'm convinced that there is a future where everyone has an avatar, and there is a culture that develops from it."
Approximately 10 years have passed since this announcement, and Corona's evil has arrived. It is said that the "Metaverse" has begun to attract attention again. As a point different from the second life boom at that time, which ended with some excitement, pointed out that consumers are accustomed to online more than ever due to improved PC performance and half-forced stay home He then introduced some notable elements related to the current metaverse.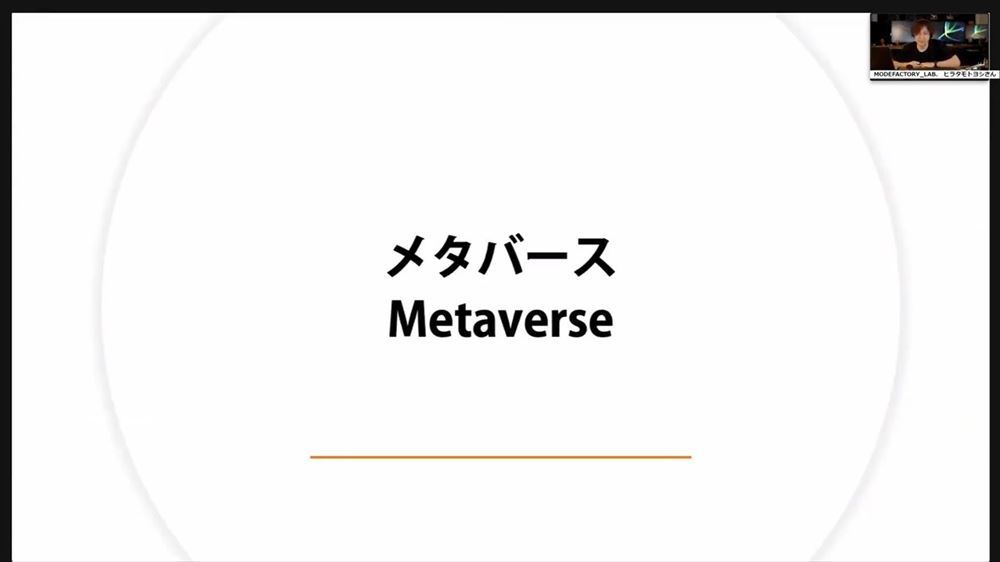 Then, the topic expands to "the future of avatars and fashion." In fact, thinking about what you want to wear on your avatar, it's likely that it will be linked to your favorite clothes, says Hirata. However, some point out that the hurdles are still high unless real shopping and POS information in the virtual world are linked.
In addition, as an example that suggests the future of Metaverse that will spread with Avatar in the future, in the online game "Fort Knight", we will give an example of live distribution that attracted more than 10 million viewers and became a topic, and in the virtual space Already, he said he could design an experience that's unimaginable in real-world events and bring people together to go crazy.
Finally, although it is certain that avatars will be used more, he points out that there are many issues and that they will not spread unless various people commit. I asked many people to take this opportunity of Corona War to experience the metaverse with online games and services and feel the future potential of avatars and fashion.
Avatar fashion and "3D modeling" scene
Next, Megumi Ohashi talked about how the patterner started using 3D modeling software, the effectiveness of digitization, how to use it in business, and the future vision. Mr. Ohashi said that he learned about the existence of modeling software for apparel from an introduction article of a startup company that developed a 3D fitting service, and arrived at 3D CAD software "CLO3D".
One of the challenges of apparel is that the trends are changing faster than in the past, and it is necessary to prepare a large amount of samples quickly, while the sewing factory is becoming offshore, and it takes time to produce it. There is a current situation. He believes that many of the problems such as material and time cost for sample production can be solved by replacing with digital.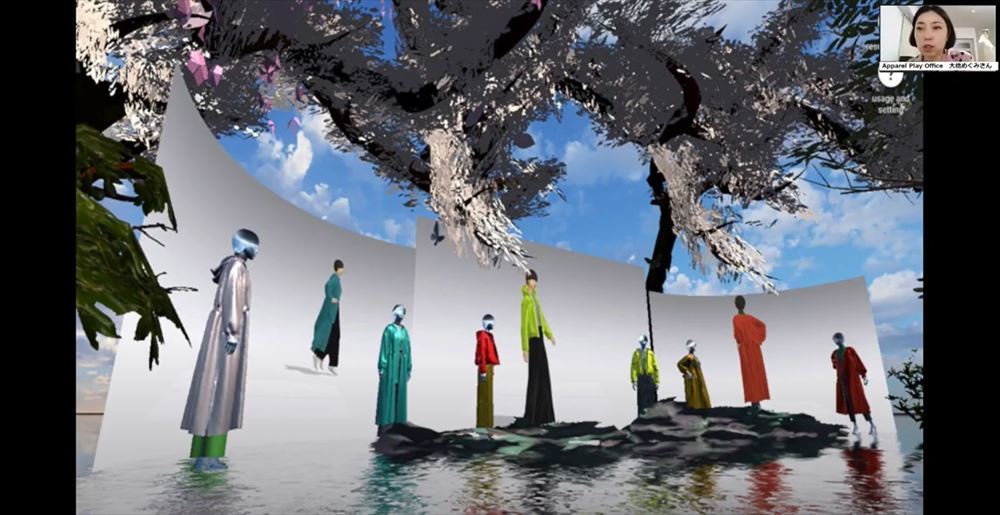 Also, although Corona has been forced to suspend exhibitions and close stores, Mr. Ohashi explained that even before Corona, there was a trend to reduce stores and strengthen EC from the viewpoint of performance and cost. He said that digitalizing the store space with VR is an effective alternative to the actual store, in that it allows the user to feel the "world view" of the product even if it is not completely realistic.
In order to effectively use virtual fashion and VR in the fashion business, "use in sales promotion" to distribute virtual clothes, "use in service" such as EC, "use in entertainment" such as games like Atsumori ", How to utilize virtual fashion and VR including avatars such as "utilization for opportunity creation" both in digital production and presentation for young designers who have not been able to announce the design due to cost presentation.
After the presentation, we also answered questions from facilitator Shinozaki from the perspectives of the 3D creator and the patterner. I think that patterners will also need 3D CAD technology, but when asked if the hurdle is high, easy-to-use software is emerging compared to before, so the hurdle is surprisingly low for apparel 3D CAD speak.
 Also, in the apparel industry, which has been searching the direction by counting the number of likes of Instagram, the number of likes is hidden and the index disappears as the specifications of Instagram change. The future of avatar fashion, such as the idea of ​​putting on sample clothes for avatars, totaling the reactions, and thinking of mass production, and even those with complex appearances, using the avatar as a model to send out coordination The vision for valuation was told.
About Avatar Fashion and Intellectual Property Rights
Finally, from the legal perspective, Seki attorney talked about the copyright of Avatar Fashion, design rights, and legal issues that will be needed in the future. First, there are three definitions of "work": [1] expression of thoughts or feelings, [2] creativeness, [3] literary, academic, art, or music. I explained that it relates to points.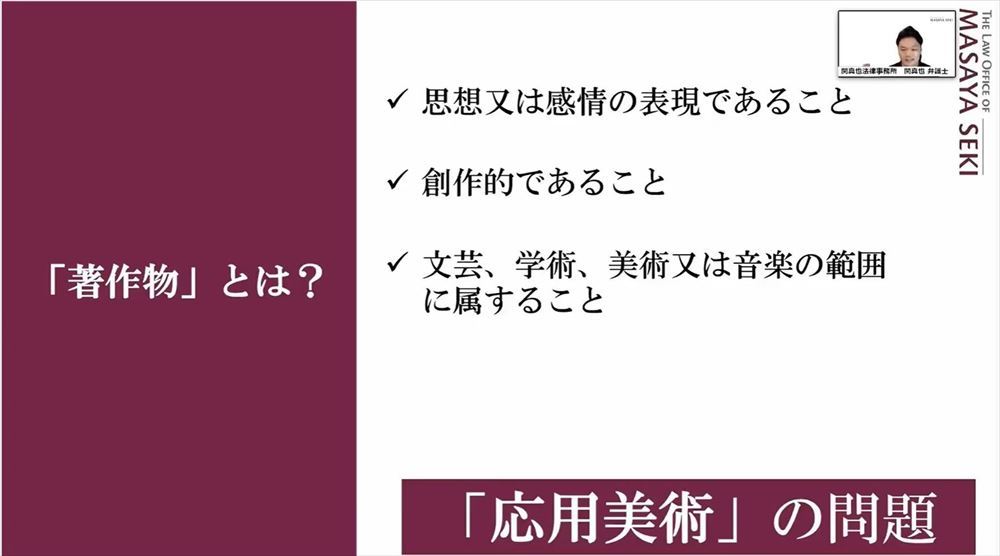 Next, about the "copyright" and "design right" that protect the rights related to copyrighted works and their differences. Originally, copyright was to protect literary arts, paintings and sculptures, but now it is also applied to digital contents such as 3DCG. It has a strong effect such as being protected for about 70 years after the right holder's death. On the other hand, design rights have high hurdles until they are protected, and the protection period is 25 years, which is shorter than copyright. Registration is required at the JPO, and once registered, it will be published in a form that anyone can refer to in principle. It is said that the purpose is to activate new product development.
As one of the points to distinguish whether copyright or design right is applied, it is explained that when "expression is constrained by a practical function", it is a design right and "protection of pure expression" is a copyright. He introduced three cases of cases where copyright protection was involved in the design of fashion products, and explained the reasons for each judgment, focusing on the point of limitation by practical functions.
Listening to this explanation, he also talked about the issues that are expected in future avatar fashion. When linking avatar and real fashion, it may change which is made first or whether it is protected at the same time, and the design itself is limited by practical functions. , The possibility of various considerations was indicated by Seki.
In summary, according to the current design system, screen designs [UI designs such as LCD screens of watches] have come to be protected by design rights, but the fashion of avatars is not yet protected. Now that VR is drawing attention, he said he would like to make it an opportunity to think about legal development.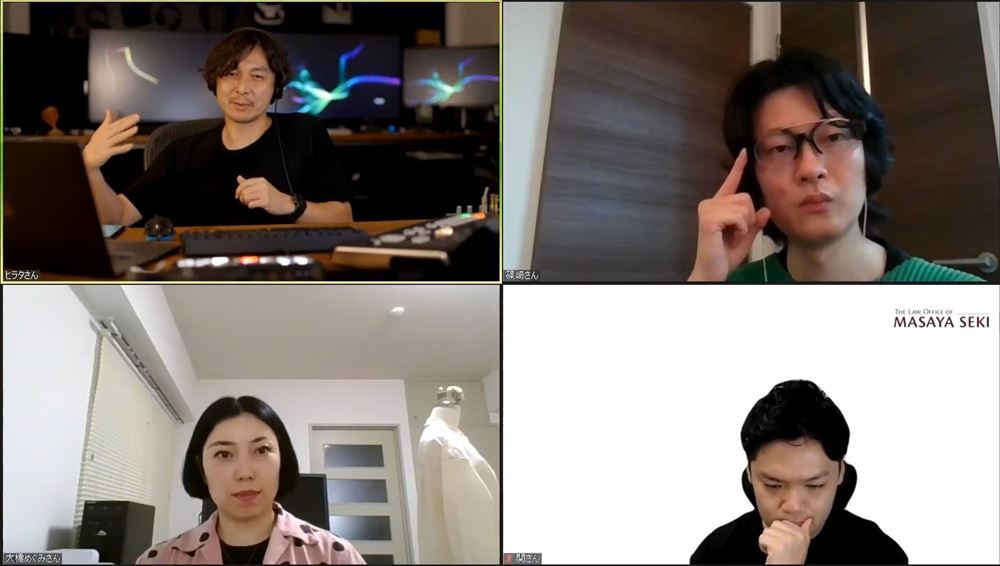 After that, there were discussions based on legal topics, and various opinions were actively exchanged, including efforts to develop VR beyond national borders and the need for legal development. Finally, Mr. Shinozaki concludes the first session by saying that this topic cannot be answered immediately and that he would like to continue thinking about the online talk series.
An online talk session that made me feel that what VR brings is not only the evolution of simple communication, but also the possibility of jumping over the contradictions and customs that everyone in the real world has ignored became. Future plans, including this oneFashion Studies Official ChannelWill be delivered at.
Source link