Headline
" Windows 10 20H1 '' new test build, re-challenge to improve experience for 2-in-1 type PC
Microsoft is taking on the challenge of improving the Windows 10 experience when using a convertible PC as a tablet.
On March 25, the company released a preview build of Windows 10 20H1 Build 19592.1001 for the Fast Ring of the Windows Insider Program. The build has been re-tested to improve the "tablet-like" experience, where the keyboard of a convertible PC can be separated or turned back and used as a tablet.
This experimental change, first attempted in an earlier preview build of Windows 10 20H1 ["Build 18970.1005"], aims to make it easier to use the touchbar while maintaining desktop-style mode on tablets. The interface was tweaked to allow room between the icons above.
Microsoft has rolled out the build on a trial basis to only some users who are participating in the Windows Insider Program, but has stopped testing in subsequent builds.
Brandon LeBlanc, Senior Program Manager for Windows Insider Program,"With further refinement, we plan to make this experience available again to Windows Insider Program participants in this build, and roll it out in future Windows 10 updates."
This experience doesn't seem to be significantly different from the original pilot implementation. The icons on the taskbar are still in a generous layout, and the search box on the taskbar is iconified. The touch keyboard appears automatically when the user taps the text field, and the File Explorer element has more room to make it easier to touch.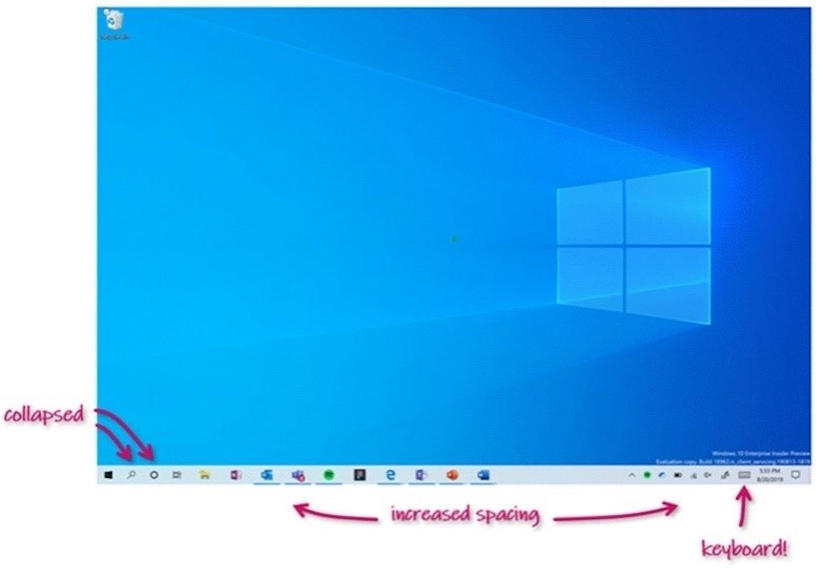 Provided by Microsoft
Microsoft uses only some testers that have never separated the keyboard, or tablet mode only, and says "Don't ask me and don't switch" ], And we are rolling out this feature again over time.
According to LeBlanc, this pilot implementation for tablet form is different from the currently available "tablet mode".
Microsoft is asking for tester feedback on what it would look like to use a 2-in-1 PC as a touch device without going into tablet mode.
ビ ル ド Also, in this build, efforts are being made to reduce the load of the "Windows search" indexer. As a result, while the machine is being used, a high-load index creation process is refrained.
This article is from overseas CBS InteractivearticleWas edited by Asahi Interactive for Japan.
Source link