Headline
Windows 10 "smartphone synchronization", application operation of linked smartphones possible–but only for "Galaxy"
Microsoft has started providing the latest preview build for testers, "Windows 10 Insider Preview Build 20185". In addition, we strengthened the application "smartphone sync" for Windows 10 that links the "Windows 10" PC with a smartphone so that the application on the smartphone can be operated from the PC [Part 1,Part 2].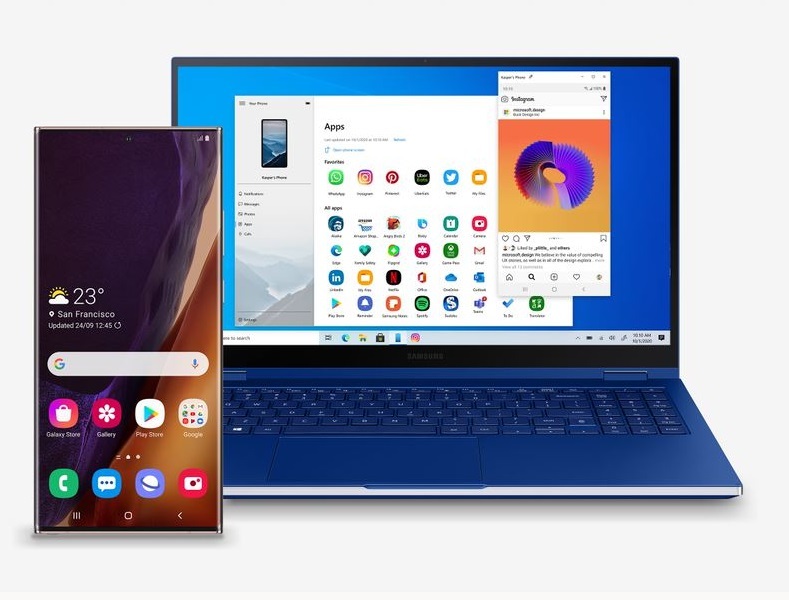 Operate Galaxy apps with Windows 10 smartphone sync [Source: Microsoft]
Currently, Samsung Electronics' "Galaxy" series is the only device that can use this function in addition to smartphone synchronization. The icon of the application installed on the linked smartphone will be displayed on the smartphone synchronization screen, so clicking on it will allow you to operate the application on Windows 10.
The smartphone application is displayed in a separate window from smartphone synchronization, and you can use the PC keyboard, mouse, pen, touch screen, etc. In the future, it will be possible to display and operate multiple apps at the same time.
Operate smartphone apps on Windows 10 [Source: Microsoft]
Furthermore, it is also possible to pin the smartphone application to the taskbar or start screen in the same way as the application on Windows 10.
Pin smartphone apps to taskbar [Source: Microsoft]
Source link