IT Lifehack
With the Tokyo Sky Tree and the shining Ekimise shining into the future in golden color, everyone celebrates the beginning of 2020! 2019 to 2020 countdown in front of Tobu Asakusa Station on New Year's Eve of Reiwa!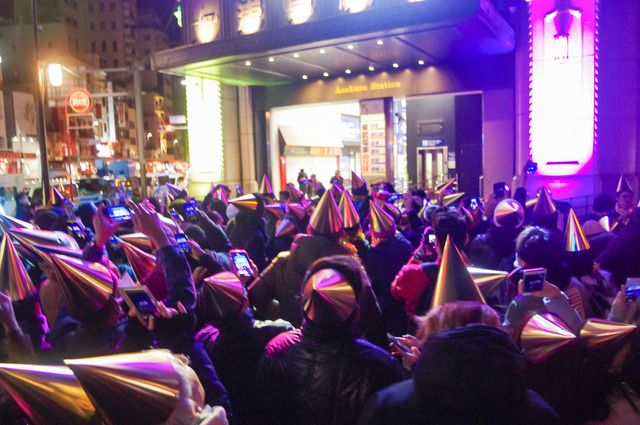 Tobu Railway will symbolize the bright future of the Asakusa / Oshiage area (hereinafter referred to as the "Asaoshi area") from 2020, with the "Asakusa Ekimise" front wall of the Asakusa Station building, the main entrance of the Tobu Skytree Line, colored golden. A dyeing writing countdown event was held from December 31, 2019 to January 1, 2020.

The countdown event in Tokyo is famous for the event in front of Shibuya Station, but this time, the Asadashi area, which is newly connected by the waterside space by " Sumida River Walk '' and " Tokyo Mizmachi '', which opens in the spring of 2020, between Asakusa and Tokyo Skytree Town Celebrating the birth of 2020 and the opening of international events in 2020, and has only been realized with the cooperation of the local community.
Asakusa is a region with a golden connection, as is known for the "Kinryu Festival", which is related to the "Kinryuyama", the mountain name of Sensoji Temple. This time, with the cooperation of the Asakusa Tourism Federation and other locals, a large-scale vision set up at Asakusa Ekimise, and a video that enlivens the countdown with the appearance of a landlady, a rickshaw carman, and Tobu Asakusa station manager, etc. It was aired from time to time, and the entire wall was colored golden with a projector and laser beam. Many people including foreigners also participated in the countdown, mainly visitors to Sensoji Temple.
At the same time, Tokyo Sky Tree, Japan's leading symbol tower, celebrated the opening of 2020 with the ending of 2019 with a "golden" lighting.
■Articles related to cultureI Read
・Create art using aibo! "Aibo x graphic art competition" held at Sony Square Shibuya Project

・Very active in the event of a disaster in addition to the outdoors! A compact "ZEEPIN portable power supply" with a capacity of 60,900mAh that can be purchased at the 20,000 yen level and supports 6 simultaneous charging and PD fast charging
・During the year-end and New Year holidays, heroes and squadrons are excited! Free live broadcast of special effects such as "Kamen Rider Den-O", "Samurai Sentai Shinkenger", "Battle Fever J" at Nico Nico
・Reiwa first held! " Ruby biz Grand prix 2019 '' to commend those who created new value by making good use of the Japanese programming language " Ruby ''
・Unlimited play of 500 titles! Beta version service of "GeForce NOW Powered by SoftBank" started!