Woman Work Style
Women working in a construction shop, why did you choose a construction shop as a workplace?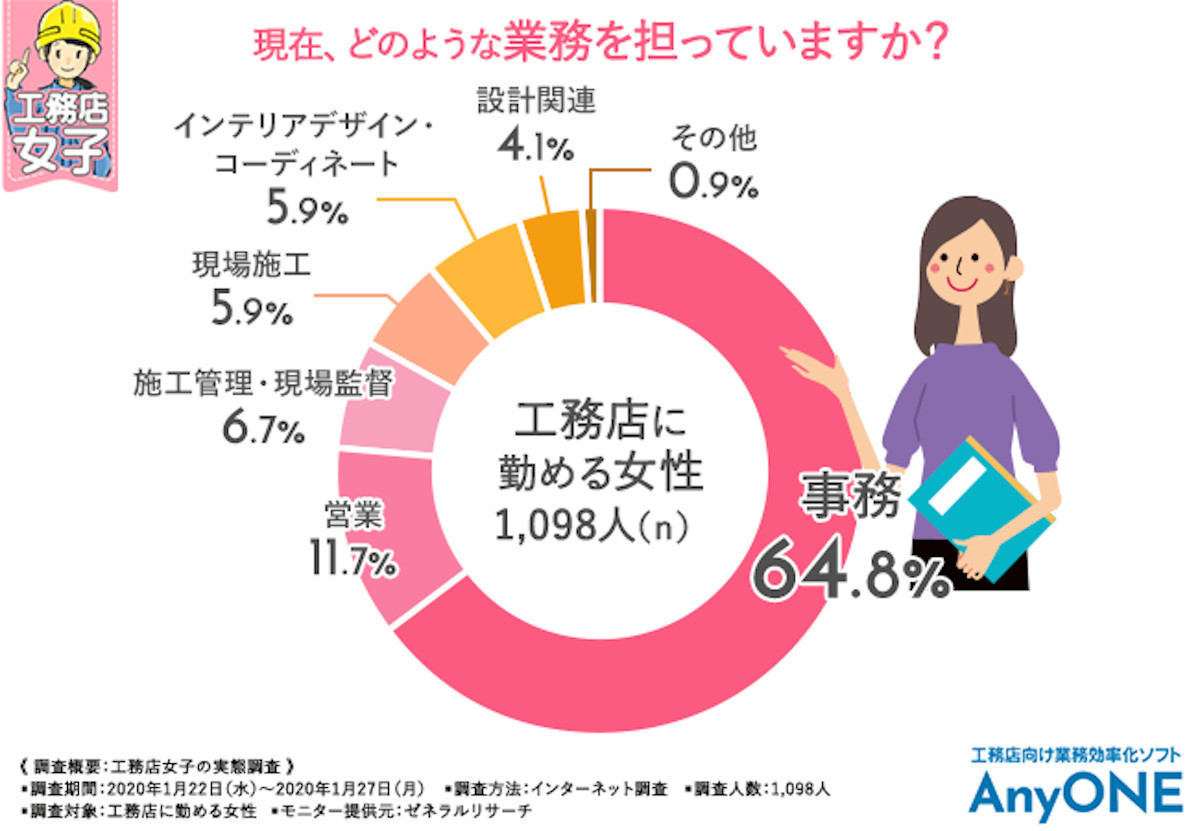 Anyone announced on February 4 the results of a survey of construction shop girls. The survey was conducted online from January 22 to 27, targeting 1,098 women working in construction houses.
First of all, when I was asked what kind of work I was in charge of, I found that "clerical work" (64.8%) was the most common, followed by "sales" (11.7%), "construction management / site supervision" (6.7%), and "site construction". (5.9%), "Interior design and coordination" (5.9%), and "Design-related" (4.1%).
When asked about the points at which they chose a construction shop, they said that they liked the corporate culture (41.5%), " I like interior design and coordination '' (31.4%), " I like architectural design '' (26.1%), and I wanted to get involved in big shopping "(14.1%).
When asked, " What do you think the construction company should do to make it easier for women to work? '', " Easy working environment (woman-friendly system and benefits) '' (51.7%) At the top of the list. Next were " Environmental environment after marriage and childbirth '' (34.5%), " Growth environment (career development and seminars) '' (31.8%), and " Workplace atmosphere and corporate culture (stylish workplace and communication) '' (22.8%). Followed.
When asked, "What kind of contractor would you like to build if you build a house?", "Responsible staff is good" (39.3%), "After-sales service is substantial" (38.5%), "High degree of freedom in design" (36.1%), and "Provide detailed estimates" (32.7%) ranked high.
In addition, when asked, " Do you want to build a house at your work shop? '', Nearly 70% answered " I think '' (69.8%), but 30% said " I do not think '' (30.2%) And answer. They said, "I know the good and the bad," "I knew the real situation and thought that I couldn't trust much," "From a privacy standpoint," and "Because it can be expensive."
Source link