Andorid
" Xperia Ace '' with high performance condensed in the palm size-Get great value with IIJmio!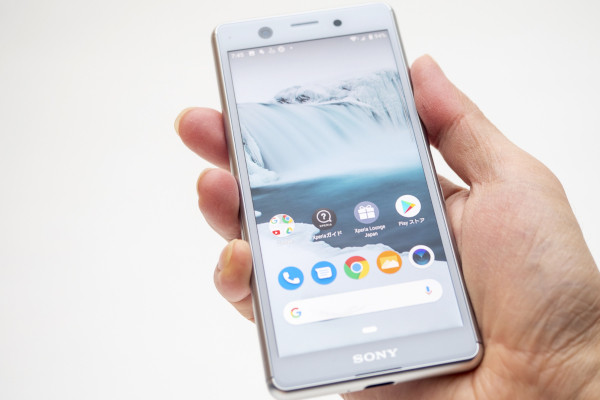 As smartphones become larger as their functions evolve, many people are looking forward to a compact device that fits in one hand. Is Sony Mobile Communications' Xperia Ace perfect for those? It is equipped with a large and high-definition display of about 5.0 inches, a high-performance camera that is strong in night views, a high-speed CPU, high-quality audio, etc., while being palm-sized, so you can enjoy videos, photos, music and SNS as much as you can.
The elegance of the design, the politeness of the finishing touches, and the luxurious feeling that floats throughout, are unique to the Xperia series, which represents domestic smartphones. Still, the actual price is in the high 40,000 yen range. The cospa is attractive enough as it is, but IIJmio, a long-established MVNO, has a limited time campaign until January 29, and if you meet the conditions, you can get the product at a more reasonable real price of 39,800 yen That.
Here, I will introduce the features of Xperia Ace and how to get it at a great price.
Realizes a size that can be easily operated with one hand
With Xperia Ace in hand, the first thing I think is "small!" To the eyes familiar to recent large smartphones, it is so compact and condensed that it looks fresh. That should be it, the main body size is about 140mm in height × 67mm in width × 9.3mm in thickness, which is smaller than the current mainstream 6-inch class smartphone by more than one turn. The mass is about 155g and moderate weight. It is a size that fits comfortably in one hand even if your hands are not very large.
In addition, the body has a curved edge, so it fits easily in your hand and is easier to hold than you think. You can easily tap the edge of the screen when using one hand and using your thumb. Even though it is compact, the rigidity of the main body is high, so there is no need to worry about the case being deformed even if you put a little force on the grip.
By the way, the front of the main body is made of tempered glass, and the back is made of glass fiber reinforced plastic, which is not only resistant to deformation but also resistant to scratches. It's a nice point for those who say, "I want to carry it barely without a case because it is a small terminal."
For terminals sold at IIJmio, there are two types of body colors, black and white. This time I tried white, but the silver of the frame part tightened the outline of the main body, and it felt smaller than the number in the specification table.
The buttons and interface include a headset connection terminal at the top of the main unit, a USB Type-C connection terminal at the bottom, a SIM card / microSD card slot on the left side, and a volume key and power key on the right side. Because the volume key is circular and the power key part is slightly recessed, it's nice that it's easy to distinguish by fumbling.
The power key has a built-in fingerprint authentication sensor. By registering your fingerprint in advance, you can unlock the power key just by touching it. Since multiple fingerprints can be registered, it is convenient to register the finger that comes to the button position when grasping the main unit, such as the right thumb and the left middle finger. Fingerprint authentication is highly accurate and fast, so when you press the button, the home screen is displayed almost at the same time, making it very comfortable.
Equipped with a 5.0-inch high-resolution large display
If you have a small terminal, you may think, "Is the screen small?" The Xperia Ace has a large display of 5.0 inches despite its 4-inch housing size, so you can enjoy movies and games with a sense of reality.
The resolution is full HD + [2,160 x 1,080 pixels], and the resolution is so high that each pixel cannot be identified with the naked eye. The camera adopts the "triluminous display for mobile", which generously uses the technology cultivated by Sony's LCD TV "BRAVIA", and is pleased to reproduce subtle color differences realistically and naturally. It is a good impression personally that the video of the video or game is not partially missing because of the rectangular display without notches.
By the way, even though it is a large display, it is easy to reach the edge of the screen, and the balance between visibility and ease of use is exquisite. However, since it is long vertically, it seems that fingers may be difficult to reach at the top etc. with small hands. Xperia Ace also has several features for such situations.
One is "Side Sense", a function that allows you to double-tap the side sense bar at the edge of the screen [the right or left edge can be changed by setting] to display the launcher at that position. App and setting icons are displayed within the reach of your thumb. Xperia predicts and displays the application icons according to the user's usage, so it is very convenient that the more you use them, the better the operability will be.
The other is "one-handed mode". When you select the one-handed mode icon that appears in the side-sense menu, the entire screen shrinks so that you can easily tap the top of your finger that is difficult to reach with your thumb. I actually tried it in various places, but it was especially useful when I wanted to operate in an unstable posture with one hand blocked, such as when holding on a hanging strap on a train.
Night view is perfect with camera shake correction function!
This product is equipped with a 12-megapixel out-camera and an 8-megapixel in-camera, allowing you to enjoy a variety of shootings from landscape photography to selfies. The sensor employs a backside-illuminated CMOS image sensor Exmor R for mobile, which is strong in dark places, making it possible to clearly capture indoors and night scenes where light tends to be scarce while making the most of the atmosphere.
In addition, the out-camera is equipped with a bright F-number 1.8 lens and an optical image stabilization function, so you can shoot sharply even in dark scenes without blurring. For movie shooting, a hybrid image stabilization function that combines the optical and electronic methods can be used, so it is possible to shoot smooth images with little blur while walking.
The in-camera can switch the angle of view between a super wide angle of about 120 degrees and a wide angle of 80 degrees. Setting the angle to 120 degrees for selfies with a solid background and 80 degrees for portraits is a convenient way to shoot just the right situation.
Of course, selfie is also equipped with a function that is indispensable for selfie. Blur the background of a person to a natural feeling, correct the skin brightly and beautifully, adjust the size of the eyes and the contours of the face, etc. Since the finish is natural, it seems to be very useful when shooting selfies.
Equipped with high-performance CPU & long-lasting battery
This product is equipped with Qualcomm Snapdragon 630, a SoC for middle class smartphones. The SoC has eight cores for data processing and operates at a high speed of up to 2.2 GHz, which makes it difficult to operate even if multiple applications are executed simultaneously. In general usage such as Web browsing and SNS, you should not feel much dissatisfied with performance.
One of the features of the Snapdragon 630 is its power saving. Moreover, the Xperia Ace has a small but 2700mAh battery, so the battery life is pretty good. The continuous standby time is about 600 hours, and the continuous call time is about 1092 minutes [in the case of LTE], which is enough driving time for ordinary use.
In addition, a "STAMINA" mode that makes the battery last longer is also installed. It limits the performance and some functions and slows down the battery consumption, so it is reassuring when the battery level is low.
In addition, the Xperia Ace has a number of essential functions for a rich smartphone life, such as high-quality audio functions supporting high-resolution sound sources, waterproof performance conforming to IPX5 / 8, and Osaifu-Keitai. If you want to start a new smartphone life with winter bonuses and New Year's balls, you can say that it is exactly the perfect one.
With IIJmio, urgent price reductions are now available!
You can also get a gift certificate for 39,800 yen!
The regular price of 49,800 yen [excl. Moreover, IIJmio, a long-established MVNO, has been implementing an emergency price reduction entitled "Xperia Ace Launch Commemorative Campaign" until January 29, and the terminal price has been reduced by 5,000 yen.
Furthermore, if certain conditions are met, a 5,000 yen "selectable e-GIFT" will be given as a gift. This means that you can freely select and receive from multiple electronic money and gift certificates. When combined with the discount, you can get Xperia Ace for 39,800 yen [excluding tax], which is 10,000 yen cheaper than usual.
There's no way you can't get that "Xperia" because you can get it for less than 40,000 yen.
To be eligible for the campaign, you must apply for Xperia Ace on the IIJmio website at the same time as a new voice SIM during the period. Also, if you already use IIJmio's voice SIM, you can get a gift certificate worth 5,000 yen if you purchase Xperia Ace on IIJmio's website.
New Year! IIJmio Thanksgiving Day Soon!
<Luxury gifts for 2020 by lottery>
At the same time, "Luxury gift for 2020 by lottery" is being held. New contracts are often targeted, but this time those who have already subscribed to IIJmio can apply. Of course, you can apply for a new contract during the campaign period, so if you are considering, we recommend that you contract early and try a lottery challenge.
***
If you want to get Xperia Ace at a great price, you can't miss this opportunity. If you are looking for a compact, high-performance device, or a device with a sophisticated design, be sure to check out the company's campaign site!
Source link