Headline
ZOZO re-enters China for the first time in 7 years–Aiming for "Media EC" to disseminate Japanese fashion culture
ZOZO, which operates the fashion mail order site "ZOZOTOWN", will be released on December 10th, China 's ZOZOTOWN "ZOZO"Has started. 177 shops such as "ADAM ET ROPE '", "CIAOPANIC", "L.H.P", etc. that are currently open in ZOZOTOWN have opened in the Chinese version. It will be added in the future.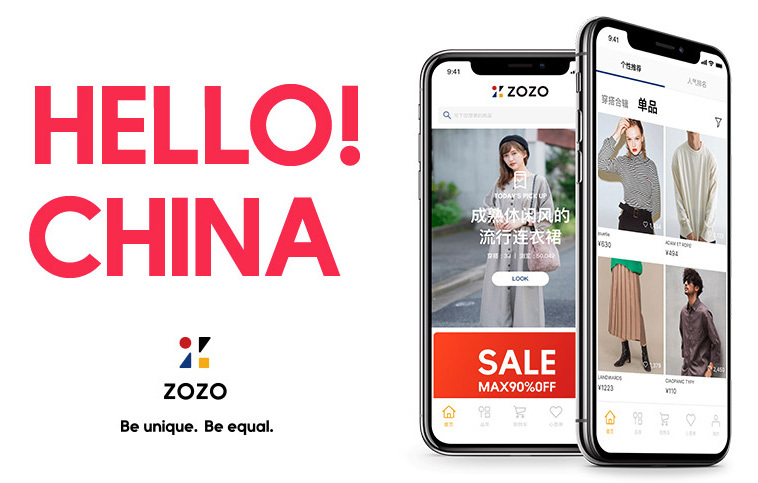 The Chinese version of ZOZO makes full use of the functions of the fashion coordination app "WEAR" operated by the company, and sends out fashion information such as life-size coordinated posts by trend users, trend shop news, and tips on how to dress. In addition to selling products, "Fashion Media EC" will appeal the appeal of products through coordination information and Japanese fashion culture.
-By deploying as ZOZOTOWN instead of deploying on an EC platform in China, it is possible to disseminate the world view of participating shops and brands while maintaining the freedom of UI / UX. Stores can open in China with the same sales agency fees as when ZOZOTOWN opened in Japan, and product inventory is managed at the domestic distribution center "ZOZOBASE". Ships from ZOZOBASE as soon as an order is received from China. The company will support sales in China by introducing major payment methods in China, developing systems such as APIs, and supporting trademark registration.
ZOZO established a local subsidiary, "Shanghai ZOZO Co., Ltd." in China. The local subsidiary will support all operations necessary for sales in China, including media editing and translation, a series of fulfillment operations such as delivery and customs clearance from Japan to China, and customer support operations. As a result, store openings will be able to expand sales to China at no additional cost.
ZOZOTOWN had an EC site for China in October 2011, but closed in January 2013. This is the first re-entry in about seven years. According to the company, the current Chinese fashion retail market has grown remarkably in terms of market size, e-commerce ratio, etc., and the annual fashion consumption per capita has grown approximately four times compared to 2012.
In recent years, the Chinese media have also confirmed many articles introducing Japanese fashion culture, and pointed out that Chinese consumers are increasingly interested in Japanese fashion culture. The company wants to spread the Japanese fashion culture globally while aiming to expand the sales market of ZOZOTOWN store openings and improve brand recognition and sales in China by expanding into China.
Source link